K. SIVAN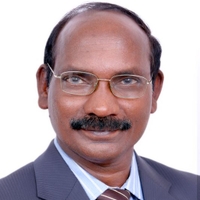 Born on April 14, 1957 in Sarakkalvilai, Nagercoil in Kanyakumari district, Tamil Nadu and hailing from a humble family background, Dr. K Sivan is the Secretary, Department of Space / Chairman, Space Commission & Indian Space Research Organization since January 15, 2018.
Dr K Sivan completed his Bachelor of Science in Mathematics from Madurai University in 1977 and B.Tech in Aeronautical Engineering from Madras Institute of Technology in 1980. He completed M.E. in Aerospace Engineering from Indian Institute of Science, Bangalore in 1982 and Ph.D in Aerospace Engineering from Indian Institute of Technology, Bombay in 2006.
He joined ISRO in 1982 in the PSLV Project and has contributed immensely towards end to end mission planning, mission design, mission integration and analysis for all the launch vehicle programs viz., PSLV, GSLV and GSLV-Mk-III Vehicle.
During his career at ISRO, he has held many responsibilities like Project Director, RLV-TD, Project Director, GSLV, Director, LPSC and Director, VSSC.
His research interests are in Aerospace engineering, space transportation systems engineering, launch vehicle and mission design, control & guidance design, mission simulation software design, mission synthesis, simulation & analysis and validation of flight systems and project management.
He has played an exemplary role in developing and improving the launch vehicle capability for India. He is the architect of Space Transportation Roadmap for India addressing the present and future requirements as well as global scenario. He has prioritized a host of areas for technology development as part of the roadmap.
He has ardently advocated the human spaceflight initiative by India taking into account the benefits of new research and development, technological capability as well as inspiring the youth and nation. He took measures to reduce the inherent technology development risks for human spaceflight programme by initiating technology development in critical areas of interest to human spaceflight. He is also instrumental in establishing a new vertical of human spaceflight in ISRO as well as a new Human Spaceflight Centre.
He enhanced ISRO's outreach activities by establishing space incubation centres across the country. He also leveraged space technology as a diplomacy tool to enhance International Cooperation by extending the benefits of space technology to non-space faring countries.
Dr. K Sivan is a Fellow of Indian National Academy of Engineering (INAE), Aeronautical Society of India (AeSI), Systems Society of India (SSI) and Indian Systems Society for Science and Engineering (ISSE), Institution of Electronics & Telecommunication Engineers (IETE) and Indian National Science Academy.
He has received numerous awards in recognition of his contributions. Some of the major awards are ISRO award for outstanding achievement for the year 2016, Shri Hari Om Ashram Prerit Dr. Vikram Sarabhai Research award for the year 1999, ISRO merit award for the year 2007, Dr. Biren Roy Space science award for the year 2011, The Distinguished Alumnus Award 2013 from MIT Alumni Association, Chennai, The Distinguished Alumnus Award 2017 from IIT-B, Mumbai and Distinguished Alumnus Award 2018 from IISc. Besides this he has been conferred with Honaris Causa from many prestigious universities. Received Lokmanya Tilak Award-2018 from Lokmanya Tilak Smarak Trust, Pune. "Nav Yug Chanakya Puruskar" from Hindu Economic Forum, Kochi and 'Vigyan Ratna Award' from Panjab University in 2019. He is also selected for the 2020 IEEE Simon Ramo Medal from IEEE and 2020 Allan D. Emil Memorial Award by the International Astronautical Federation.
Events