Karsten GEIER
Cyber Policy Coordination Staff in Germany's Federal Foreign Office • Head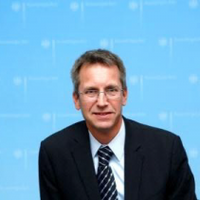 Karsten Geier is head of the Cyber Policy Coordination Staff in Germany's Federal Foreign Office. A career Foreign Service officer, Karsten Geier has held a variety of posts both at home and abroad. He has served in South-Eastern Europe, Brussels (at Germany's Representation to the European Union) and Washington, D.C. (including as exchange officer in the U.S. Department of State).
His most recent assignment abroad led him to New York, where he helped set up the European Union Delegation and subsequently worked at Germany's Mission to the United Nations. In the context of Germany's membership of the UN Security Council, he chaired numerous meetings of the Committees set up under Security Council resolutions 1267 (Al Qaida Sanctions) and 1988 (Taleban Sanctions).
Karsten Geier was Germany's member of the 2014/2015 UN Group of Governmental Experts on Developments in the Field of Information and Telecommunications in the Context of International Security. He represents his country in the OSCE's Informal Working Group on the Risk of Conflict Stemming for the Use of Information and Communication Technologies. A frequent public speaker and author of articles on international cyber affairs, Karsten Geier has also taught modules or given presentations at Germany's Federal Academy for Security Policy, the Foreign Service Academy, the Führungsakademie der Bundeswehr (German Armed Forces' Leadership College), the European Security and Defence College, the George C. Marshall Center and other educational institutions.
Events

The Global Conference on Space and the Information Society 2016
6-7 June 2016
Geneva, Switzerland
Participation: