Kimberley CLAYFIELD
Dr Kimberley Clayfield is Executive Manager of Space Sciences and Technology within Australia's national research organisation, CSIRO (an IAF member since 1986). In this role, Kimberley is helping to guide the development and implementation of CSIRO's and Australia's space technology agenda through achievements including: establishing a significant new million-dollar Earth observation initiative within CSIRO; co-authoring a major national study into the Earth observation data dependencies of the Australian R&D sector; and influencing important national space policy developments, including playing a key role in developing the proposal which led to the four-year $40 million Australian Space Research Program, and contributing to the creation of Australia's first national space policy (released in April 2013).
Kimberley, a mechanical engineer with additional qualifications in space science, public policy and business administration, is an invited member of both Engineers Australia's National Committee for Space Engineering, and the Australian Academy of Science's National Committee on Space Science. She has also previously served as a Past Chair (Sydney Section) and Deputy Director Young Professionals (Region VII) of the American Institute of Aeronautics and Astronautics. Kimberley represents CSIRO on the IAF; she is a member of the Policy Advisory Committee, and in 2012 she served as an elected member of the Nominations Committee supporting the biennial IAF elections.
Kimberley has a passion for education, and dedicates much of her personal time to inspiring young people to study science and engineering, particularly through her long-standing volunteer role of more than a decade as Program Director of both the South Australian Space School and National Space Camp (annual 3-5 day vacation programs for school students in Grades 10 and 11), through which she has mentored more than 500 students to date. She has also been a visiting lecturer at several International Space University programs.
Kimberley recently received the 2013 NAB Women's Agenda Leadership Award for Emerging Leader in the Public or Not-for-profit Sector. She has previously been named one of Australia's Most Inspiring Young Engineers by Engineers Australia (2010), and was the recipient of an Australian Leadership Award in 2011.
Events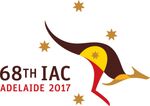 International Astronautical Congress 2017
25-29 September 2017
Adelaide, Australia
Participation: