Kirill BORISOV
ROSCOSMOS • Director of the Department for Automated Space Systems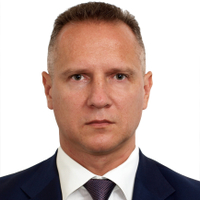 Kirill Valeryevich Borisov was born in 1969. In 1992 he graduated from Moscow Aviation University with Specialist degree in rocket science.
Kirill Borisov joined Russian Federal Space Agency in 2009. Since 2016 and until now he holds the position of the Director of the Department for Automated Space Systems of "Roscosmos" State Space Corporation.
Kirill Borisov had participated in the successful execution of the first stage of joint Russian-European project "ExoMars" (ExoMars-2016 mission), which had involved launching "ExoMars-2016" spacecraft from Baikonur Cosmodrome, carrying "Schiaparelli" lander and Trace Gas Orbiter module fitted with Russian and European scientific equipment.
Kirill Borisov had played a prime role in launching "Spectr-RG" spacecraft and is currently working on the development and creation of automated spacecrafts for the research of Moon and Venus. He is also conducting work on the implementation of the second stage of "ExoMars" project, which includes the launch of "ExoMars-2022" spacecraft from Baikonur Cosmodrome in 2022.
К.Borisov is currently leading various projects such as developing and creating proprietary unified basic service systems for next-generation spacecrafts; conducting research in the field of advanced instrument engineering technologies, which will allow the creation of improved onboard spacecraft equipment; and coordinating the process of listing the Electronic component base (ECB) elements, necessary for developing advanced onboard equipment.
Kirill Borisov is a member of Russian Inter-Agency Council of Chief Designers on Electronic component base (ECB), and since 2015 holds the position of co-chairman of Russian-Chinese sub-working group on space electronic component base, created under the auspices of Russian-Chinese cooperation program in the field of space.
For his personal contribution to the implementation of space programs and projects, as well as for long-term diligent work, Kirill Borisov was awarded with the Badge of S.P. Korolev. In 2015, he was also awarded with the Medal of the Order For Merit to the Fatherland of the II degree for services to space exploration.
Events