Lani M. Smith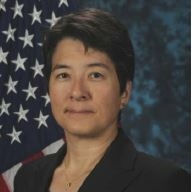 Ms. Lani M. Smith is the executive director of the Space Superiority Systems Directorate (SMC/SY), Space and Missile Systems Center (SMC), Air Force Space Command (AFSPC), Los Angeles Air Force Base (LA AFB), CA. She supports both the director and deputy director to manage a 350-person program office at multiple locations throughout the country.
Ms. Smith was born in Boston, Massachusetts and raised in Atlanta, Georgia. In 1983, she was commissioned a 2nd Lt following graduation from the Air Force Academy. Ms. Smith retired from Active Duty as a Lieutenant Colonel in Aug 2007.
In Oct 2007, she entered Civil Service and rejoined the MILSATCOM Systems Wing and the TSAT program. In 2009, when the TSAT program was cancelled, she joined the AEHF Mission Control SegmePt. In Sep 2009, Ms. Smith was promoted to be the MILSATCOM Director of Staff. In this capacity, she was also the MILSATCOM Director's representative for future International Partnership activities. In May 2011, she returned to a program management role as the deputy division chief of the AEHF program office. She led efforts to award the AEHF-5/6 contract, and she supported the successful launch and deployment of AEHF-3. In Oct 2013, she was reassigned to be the Director of Staff for the Space and Missile Systems Center, supporting the Center Commander, Vice Commander, and Executive Director, while also facilitating other small staff offices. Having completed her staff tour, she transferred to SY in Aug 2015.
EXPERIENCE
1983 –1983, Student, Communications Officer School, Keesler AFB, MS
1984 – 1986, Information Systems Activation Officer, Air Force Satellite Control Network (AFSCN) Activation Directorate (AFSCF/VX), Sunnyvale AFS, CA
1986 – 1987, Ops Officer, Local Control Organization Izmir, Izmir AS, TU
1987 – 1989, Project Mgr, Det 1, Communications Systems Program Office (CSPO), Lindsey AS GE
1990 – 1993, Planner Analyst; Flt Cmdr; Chief of GPS Current Ops, 1 SOPS, Falcon AFB, CO
1993 – 1995, Ops Rqmts Staff Officer (GPS), Det 1 AFSPC, Los Angeles (LA) AFB CA
1995 – 1996, Student, Air Command & Staff College, Maxwell AFB AL
1996 – 2000, Prog Mgr (PM), Range & Comm Dev and Dep Dir, AFSCN Development, Satellite and Launch Control Systems Program Office (SMC/CW), Space and Missile Systems Center (SMC), LA AFB CA
2000 – 2003, Dep Chief, Arms Control Interagency Liaison Division, On-Site Inspection Directorate, Defense Threat Reduction Agency (DTRA), Ft Belvoir VA; also Dep Dir, Task Force DTRA, deployed to Camp Slayer (Bagdad) in support of Operation IRAQI FREEDOM
2003 – 2013, CCS-C PM; TMOS Acting PM; Dep Cmdr TSAT Network Integration Group; TSAT Program Support; Interim Chief AEHF MCS; Director of Staff; Dep Chief, Protected SATCOM Division; MILSATCOM Systems Directorate (MC), SMC, LA AFB, CA
2013 – 2015, Director of Staff, Space and Missile Systems Center, LA AFB, CA
2015 – present, Executive Director, Space Superiority Systems Directorate (SY), SMC, LA AFB, CA.
Events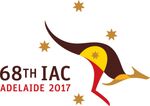 International Astronautical Congress 2017
25-29 September 2017
Adelaide, Australia
Participation: