Laurent Jaffart
Laurent is currently the Head of Strategy, Corporate and New Business Development of Airbus Defence and Space for Space Systems. He formally was the Head of Constellation and Future solution for Space Systems Marketing and Sales.
Laurent leads a trans-national team based in France, Germany, in the UK. The aim of his organization is to define and implement the strategy for Airbus Space, bringing new (financial and product) solutions and innovation on the market.
He led constellation bids successfully including the OneWeb massive constellation of telecommunication satellites and the creation of the Joint Venture – Airbus OneWeb Satellites – to design and manufacture constellation satellites amongst other opportunities. He seats on the Board of various space start-ups.
Laurent Jaffart holds a Masters in National Resources Strategy from the National Defense University in Washington DC USA (2013), two Masters in Business Administration (MBA) from the former ESC Reims (Reims Management School – France) and Dublin City University (2002) and a Bachelor of Sciences (Hons) in European Business and Technology from the University of Brighton in the UK (2000).
Events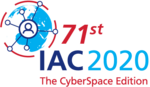 International Astronautical Congress 2020
12-14 October 2020
Cyberspace edition
Participation: