Lei FANPEI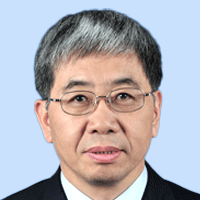 Dr. LEI Fanpei is the Chairman of China Aerospace Science and Technology Corporation (CASC), the President of of Executive Council of Chinese Society of Astronautics (CSA), Co-Chairs of 2017 Global Space Exploration Conference (GLEX2017), Chairman of the Steering Committee of the IAA Studies Center (China), Commander-in-Chief of China's New-Generation Launch Vehicle Program, Deputy Commander-in-Chief of China's Manned Space Program, Deputy Commander-in-Chief of China's Lunar Exploration Program, Deputy Commander-in-Chief of China's First Mars Exploration Mission, Commander-in-Chief of China's Hard X Ray Telescope Satellite Program.
Dr.LEI Fanpei attaches great importance to international cooperation and vigorously promotes the international development of China's space industry.With his great efforts, CASC has established extensive relations with a large number of space enterprises, governmental agencies, academic institutions and international organizations, and has built strategic partnership of mutual benefit with many of them. Under his leadership, CASC positively integrates itself into the international commercial space activities and provides in-orbit satellite delivery and commercial launch services for the international users; helps the developing countries realize sustainable development by using of space technology; substantially participates in and supports the activities of the international space organizations by fully making use of their roles and strengthening international exchanges and cooperation, thus promoting the progress of space technology and its applications and bring benefits to more people.
Under his leadership, CASC has successfully implemented many international cooperation programs, such as the China-Brazil Earth Resources Satellite Program, Sino-French Ocean Satellite Program, China-Italy Electromagnetic Satellite Program for the purpose of peaceful utilization and exploration of the outer space resources. CASC also actively participates in the intergovernmental multilateral cooperation,such as activities of UNCOPUOS, BRICs remote sensing satellite constellation program, the International Charter on Space and Major Disasters (CHARTER) and Inter-Agency Space Debris Coordination Committee(IADC).
Up to now, CASC has completed 54 commercial launch services for customers in more than 20 countries and regions, exported 11 satellites to and provided 12 Piggyback launch services for 9 countries .
Under Dr.LEI' Fanpei's leadership, CASC has always paid attention to the cooperation with developing countries by maintaining friendly relations and cooperation with space agencies of Brazil, Pakistan, Nigeria, Bolivia, Venezuela and Laos. CASC has actively carried out technical transfer, joint development, personnel training and formulation of strategic planning of space development. CASC has trained more 600 space professionals for over 30 countries and helped partners to set up their own space system. The China-Brazil CBERS program is known as the "South and South Cooperation Model" which not only supports the the economic construction and social development of the two countries, but also realizes the free data delivery to the regions of South Africa and Southeast Asia.
Dr. LEI Fanpei actively supports CASC participate in the activities of International Astronautical Federation (IAF), International Academy of Astronautics (IAA) and other important international organizations, and experts of CASC to hold positions in these organizations. As the President of of Executive Council of CSA, Dr. LEI positively promotes and supports CSA to be deeply involved in the acclivities of IAF. Such as, during the 67th International Astronautical Conference, CSA's application for establishing the IAF Small Satellite Commercial Application Selected Committee was approved by the Bureau and the General Assembly. It is the first IAF committee which is initiated by China. At present, CSA and IAF are preparing the 2017 Global Space Exploration Conference which will be held in June in Beijing. CSA is planning to organize a delegation of China's space professionals and a delegation of China's major space companies to attend to the academic meetings and exhibition of the 68th IAC.
As the Chairman of the Steering Committee of the IAA Studies Center (China), Dr. LEI Fanpei actively promotes relevant activities. in 2016, CSA and IAA jointly held the Symposium on Space International Cooperation Promoting Economic and Social Development of Developing Country. 12 representatives from governmental organizations, enterprises, and international organizations were invited to deliver keynote speeches introducing how international cooperation promoting the economic and social development of their own countries and making proposals for the field and methods of future cooperation. The symposium has produced good results.
Events

The Global Space Exploration Conference 2017
6-8 June 2017
Beijing, China
Participation: