Luca DEL MONTE
Mr. del Monte is a senior manager at the European Space Agency with strong background in international cooperation, governmental relations and advanced technologies. He has a proven track record of years of highly intense and successful strategy development and policy coordination experience in international and institutional context which resulted in launching new initiatives and programmes valued some hundreds millions euro. He also has several years of extensive experience in conception and project management of innovative high-tech security space systems for peaceful purposes.
Mr. del Monte is currently responsible for the ESA Space Economy Pole of Competences focussing on the development of Innovation Policy, the new Public-Private Partnerships (PPP) concepts, and the socio-economic-environmental impact assessment.
Mr. del Monte is author of more than 30 peer-reviewed publications, and he is graduate of the French National Defence Procurement College, and Member of the International Astronautical Federation Committee on Space Security.
Events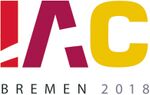 International Astronautical Congress 2018
1–5 October 2018
Bremen, Germany
Participation:

The Global Conference on Space and the Information Society 2016
6-7 June 2016
Geneva, Switzerland
Participation: