Luis Enrique SALAVERRIA MOREIRA
Universidad Don Bosco • Teacher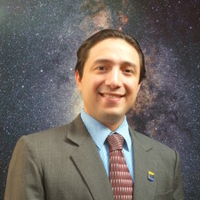 Mr. Luis Salaverría is an aeronautical propulsion teacher at Universidad Don Bosco in El Salvador. Additionally, he works as the leader of the Torogoz Sounding Rocket Project which aims to send a rocket completely designed and built in El Salvador to space.
Mr. Salaverría was born in 1985 in San Salvador, El Salvador. He completed his B.Sc. in Aerospace Engineering at Embry-Riddle Aeronautical University in Daytona Beach, Florida in 2007 and defended a thesis on the design of an air launched winged orbital launch vehicle similar to the Pegasus. After graduating, he worked as a design engineer on the final assembly line of the Boeing 787 in Everett, Washington.
He returned to his home country and created a business that designed and installed photovoltaic systems in rural homes. On 2011, after being inspired by books such as Zubrin's "Entering Space", he began to formulate a roadmap for El Salvador to gain access to space as he believed it would constitute a scientific and technical challenge and bring new opportunities to his country.
He arranged a team of people and began to launch small rockets with ever increasing complexity and apogee. The project has steadily grown over the years and has been given institutional support from the academic, government and private sectors.
He was selected as president of the to-be-formed El Salvador Aerospace Institute, where he interacts with government, business and academic leaders to secure the establishment of the first aerospace research and development center in his country. He also gives lectures on astronautics and is frequently invited to give motivational talks to students in primary and secondary schools across the country.
Mr. Salaverría believes that accessing space represents a real opportunity for his country to advance into new levels of technological, social, and economic development and his vision is to leave a legacy of infrastructure, skills and knowledge to support future space activities based from El Salvador.
Events