Magdalena GUTOWSKA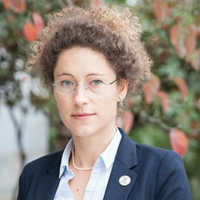 Dr. Gutowska has worked for more than 15 years at the nexus of climate change, environmental sustainability, and societal challenges. Following her career as an oceanographer, she has dedicated herself to science management and policy advising in the arena of climate mitigation and adaptation. She is an alumna of the California Council for Science and Technology Policy Fellow Program, during which she was a member of the Environmental Quality Committee in the California State Senate.
In her current position she is the Principal Lead of the Climate and Energy portfolio in the Sustainable Transition Initiative, a part of the Foresight and Strategic Planning Office at the Politecnico di Torino.
She was previously an Adjunct Professor at the Middlebury Institute for International Studies in the International Environmental Policy Program. Her teaching focused on ocean sciences and resources management.
Dr. Gutowska earned her Ph.D. at the University of Bremen in the field of Integrative Biology in Marine Systems. She was a member of the 'Future Ocean' Excellence Cluster at the Helmholtz Centre for Ocean Research and a Fulbright Scholar at the Helmholtz Centre for Polar Research in Germany.
Events

The Global Space Conference on Climate Change 2023
23 May-25 May 2023
Oslo, Norway
Participation: