Major General Michel FRIEDLING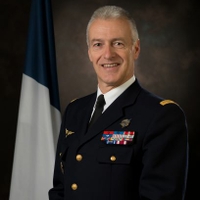 Major General (FRA-AF) Michel Friedling is graduated from the French Air Force Academy (year 1986) as a fighter pilot and obtained a degree in aeronautics engineering. He exercised different levels of command and responsibilities in operational units, flying Mirage F1 and Mirage 2000, mainly in Cambrai AFB, to include several deployments in Africa, Balkans and Middle East.
Graduated from the War College in 2001, he took command of a Fighter Squadron in Mont-de-Marsan Air Force Base. From 2001 to 2004, his unit prepared the entry into service of the Rafale and managed the operational testing of all new weapon systems and armaments delivered to the French Air Force.
He then served five years in the Plans Department of the French Air Force HQ in charge of capability development and multinational cooperation on capabilites.
In 2009, he took command of Saint-Dizier Air Base, equipped with the Rafale. The Air Base was under his command when the French Air Launched Nuclear Missile - ASMPA - was fielding as a Rafale weapon system and when the first French Air Force raids were launched from Saint-Dizier over Libya in March 2011 as part of Operation HARMATTAN.
Graduated from the Centre des Hautes Etudes Militaires (CHEM) [High Military Studies Center] and the Institut des Hautes Etudes de la Défense Nationale (IHEDN) [Defense and National Security Institute], Paris, Michel Friedling served in the Joint Military Staff, where his areas of responsibilities included successively nuclear deterrence and military strategy. In 2014, he became head of the Plans Department of the French Air Force.
Among his staff responsibilities, Michel Friedling actively contributed to the French Defense and Security White Papers 2008 and 2013 as well as the Military Expenditure Laws 2009-2014 and 2014-2019.
From August 2016 to February 2017, he was the French Senior National Representative to USAFCENT Cdr - Al Udeid, Qatar – for Operation Inherent Resolve and commanded the French Air Component allocated to the international coalition against ISIS. Under his command, more than 300 strikes were conducted by the French aircrafts in support of Mosul liberation by the allied and partners Forces.
Promoted Brigadier General in June 2017, he became the deputy Chief of Staff responsible for developing the Military Strategy at the French joint Staff HQ in Paris. He actively participated in the development of high-level studies such as the National Strategy Review in 2017, the Military Planning law of 2019-2025 and the Joint Innovation Agency in September 2018.
On September 2018, Brigadier General Friedling was appointed as the Commander of the French Joint Space Command. Based on the « french defence space strategy » published in july 2019, space expertise has been concentrated in the french forces in order to ameliorate coherence, effectiveness and visibility. Consequently, Michel Friedling became the first commander of the french Space Command, created on the 3rd september 2019. He was promoted Major General in september 2019.
Events

International Astronautical Congress 2021
25-29 October 2021
Dubai, United Arab Emirates
Participation: