Maria Cristina FALVELLA
Maria Cristina Falvella is an astrophysicist and works as permanent senior director at Italian Space Agency as Head of Strategies and Industrial Policy Unit.
She has a 30-years' experience in space science both as scientist and ASI program manager of many important scientific and industrial space programs as Herschel-Planck ESA cornerstone mission and International Space Station Node 2 & Node 3 Development.
As former Chair of the ESA industrial Policy Committee (2014-2017) she supported the challenging transition to a new governance on launchers development and has been involved in the definition of many industrial policy actions to foster the new space economy in ESA. She is Italian Delegate at ESA Council and at EU Space Working Party.
M.C. Falvella graduated at University "Sapienza" in Rome (Italy) and completed her post-doc education at École Normale Supérieure in Paris (France). She visited many international laboratoires and is currently associate scientist and lecturer on space science at University of Rome Sapienza and visiting professor for research in cosmology at the Paris Astronomical Observatory.
Events

International Astronautical Congress 2019
21-25 October 2019
Washington, United States of America
Participation: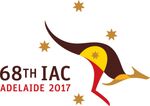 International Astronautical Congress 2017
25-29 September 2017
Adelaide, Australia
Participation:

The Global Space Exploration Conference 2017
6-8 June 2017
Beijing, China
Participation: