Mark RAWLINS
Eutelsat • Director of Communication System Operations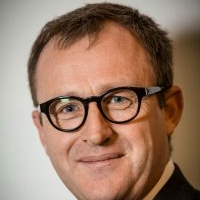 Mark RAWLINS is Director of Communication System Operations at Eutelsat. He is responsible for ensuring service delivery and customer support for all satellite and managed services commercialised through Eutelsat satellites.
In an expanding market for satellite services Mark is responsible for developing capabilities that ensure customers continued Quality of Service.
In an industry known for high service availability, the focus of this role is to ensure that the operating environment is maintained and improved. The single largest factor affecting quality of satellite services is Radio Frequency (RF) interference. This is an important focus of attention and motivates initiatives engaged by Eutelsat and the wider satellite communications community. Eutelsat has been highly active in promoting and integrating technological solutions to provide the highest level of reliability of its satellite networks. It has deployed a state of the art monitoring and control network on the ground and is developing satellite platforms that will make a quantum leap in the flexibility and robustness of communications services.
Mark represents Eutelsat at the Space Data Association (SDA) and is currently its Chairman. The SDA is a non-profit association that brings together satellite operators who value controlled, reliable and efficient data-sharing critical to the safety and integrity of the space environment and RF spectrum. The SDA was founded by commercial satellite operators for the benefit of the satellite community.
Before joining Eutelsat in 1992, Mark worked for British Telecom on the UK's communications network for TV and telecoms services. He has been involved in the early stages of mobile earth station and SNG activities in various parts of the world as part of the British Telecom International team providing television coverage of political and sporting events.
Events