Mmboneni Muofhe
Group on Earth Observation (GEO) • Co-Chair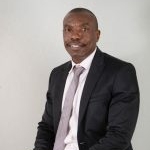 Mr. Mmboneni Muofhe is the Deputy Director-General (DDG) for Technology Innovation at the Department of Science and Technology in South Africa. He was previously DDG for International Cooperation and Resources and has held several positions at the Department, including being Chief Director: International Resources, Director: Strategic Partnerships and Director: Global Projects. During this period, he oversaw South Africa's growing participation in EU Research Funding programmes, led the mobilization of Official Development Assistance funds to support South Africa science system and the Department's partnership with Multinational Companies.
With the establishment of the Group on Earth Observations (GEO) in 2005, Mr Muofhe became the South African GEO Co-Chair representative and participated in and Co-Chaired a number of GEO committees. At the same time, drawing from GEO experience, Mr Muofhe was part of the team that developed the South African Earth Observation Strategy (SAEOS). In 2007, Mr Muofhe led the organizing and hosting of the GEO Ministerial Summit in Cape Town, South Africa which culminated in the adoption of the Cape Town Declaration. In 2017, Mr Muofhe became the South African GEO Principal and GEO Co-Chair.
South Africa was nominated as Lead GEO Co-Chair for 2019. Assuming this role, Mr Muofhe will chair all Executive Committee meetings and oversee annual delivery on priorities. Under his guidance, in 2019 the GEO community will prioritise engagement with the Global South in building a results-orientated Global Earth Observation System of Systems (GEOSS), supporting global policy priorities through Earth observations and strengthening the sustainability of the GEO enterprise.
Mr Muofhe's earlier working and post-graduate years were mainly in agricultural biotechnology. He was a UNESCO Biotechnology Fellow at the Agricultural Research Council in 1997 before joining the Foundation for Research Development (now National Research Foundation) as Coordinator and then Manager for Technology and Human Resource for Industry Programme (THRIP).
Mr Muofhe's current responsibilities include overseeing the implementation of South Africa's Space Science and Technology Strategy, Bioeconomy Strategy, Energy Research and Technology Strategy, Innovation Priorities Instruments (including new Research Areas) and oversight of the IP act.
Events