Nicola SASANELLI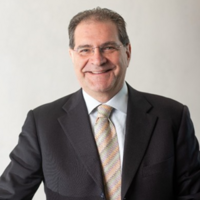 Nicola graduated from the University of Bari, Italy with a degree in Electronic Engineering. He went on to work as a researcher in microelectronics components before being appointed as Scientific Attaché at the Embassy of Italy in Canberra from 2001 to 2008. In 2009, Nicola joined the South Australian Government as Director for International R&D Collaborations.
From 2003 to 2013 he was appointed as Adjunct Professor of Science and Technology at the University of Canberra, Australia, and in 2007 he became an Honorary Member of the Order of Australia.
In September 2017 the South Australian Space Industry Centre was created with Nicola as Director.
In 2018 Nicola was appointed Adjunct Professor at the University of South Australia and he was appointed on the board of the Space Industry Association of Australia. In the same year he was also appointed to the Order of Merit of the Italian Republic by the Italian Government.
In 2019 Nicola joined SmartSat CRC as Director of Partnership and Outreach. In 2020 Nicola founded the Andy Thomas Space Foundation, of which he is now CEO.
Nicola's main passion, outside of his interest in space, is painting.
Events

International Astronautical Congress 2021
25-29 October 2021
Dubai, United Arab Emirates
Participation: