Nobu OKADA
Okada founded Astroscale in 2013 due to a strong desire to address the growing threat of space debris. He used his personal funds as seed money and grew the "Space Sweepers" team from Singapore to Japan, the United Kingdom and the United States, whilst raising US $132M capital.
Okada is a Fellow of the Royal Aeronautical Society and is also a member of The Future of Space Technologies Council, World Economic Forum and International Astronautical Federation. He was awarded Forbes JAPAN "Start-up of The Year 2019", the Burton D. Morgan Entrepreneurship Award from the Krannert School of Management, Purdue University in 2018, and Technology Pioneer by the World Economic Forum in 2017.
Prior to Astroscale, Okada was an IT entrepreneur and strategy consultant, and had managed IT companies across Asia, leading one company to a successful IPO. Before joining the IT industry, he worked for McKinsey & Company and the Japanese Government in the Ministry of Finance. He earned his bachelor's degree in Agriculture from the University of Tokyo and an MBA from Purdue University.
When he was a teenager, Okada attended Space Camp in the US where he met Japan's first astronaut, Mamoru Mohri. He received the handwritten message, "Space is waiting for your challenge" and has been inspired to work in space ever since.
Events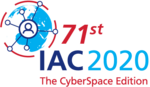 International Astronautical Congress 2020
12-14 October 2020
Cyberspace edition
Participation:

International Astronautical Congress 2019
21-25 October 2019
Washington, United States of America
Participation: