Philippe GLAESENER
SES • Senior Vice President, Business Development EMEA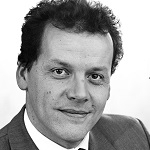 PHILIPPE GLAESENER is the Senior Vice President, Business Development EMEA of SES.
Philippe is currently heading SES' business development activities for the Europe, Middle East, Russia/CIS and Africa markets and endorses the responsibility of all major opportunities and projects for SES in this region. He is in this respect leading important SES activities around market opportunity scouting, business development as well as transaction and partnership matters in his region. Market entry and business strategy guidance, longer-term large transactions, market and political lobbying as well as business solutions innovation and support are part of Philippe's daily responsibilities.
With his 19 years of experience in satellite communications and building on an extensive experience in dealing with business diversification, related products and services as well as commercialisation matters, he has also been one of the cornerstones for forging SES' entry into the governmental, defense and institutional arena over the last years.
As part of his earlier assignments, Philippe has successfully implemented many other SES projects such as 1-way and 2-way broadband solutions and has actively driven some of SES' mergers & acquisitions activities.
Events