Rania Toukebri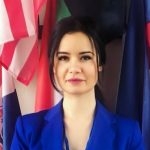 Ms Rania Toukebri, born in 1991, is a Tunisian aerospace engineer working for ESA projects in Bremen, Germany since November 2016.
She has an engineering diploma in instrumentation and electronics from INSAT in Tunisia in 2015 and a Master in embedded systems from UPJV in France in 2016. She also got a certificate in Cryptography from Stanford University in 2017.
She worked on the QB50 project (50 cubesats launched in 2016-2017) with INSSET, UPJV during her graduation project and for a Bombardier project `SURFER´: a new generation calculator for maintenance tasks.
Among the spacecrafts that she worked in: Jupiter Icy Moons Satellite, Biomass satellite, Met-Op C satellite, En-Map satellite and a non ESA project: Kompsat7 satellite (South Korean).
She is specialized in storage units and data acquisition interfaces.
Rania is also National Point of Contact of Tunisia or the Space generation Advisory Council since 2016.
She has been part of several international workshops, seminars and events for the development of space activities, solving space problematics (space debries, cybersecurity..) and for the growth of the space generation. She has been moderator in Space Generation Congress and she has been part of UNOOSA events, the UNISPACE +50 and the UNCOPUOS.
She is also part of the UNHCR organization since 2016, as well as a UN Volunteer for African affairs and an activist supporting the Human Rights Watch activities.
Events