Rene GRIESBACH
Planet • Regional Manager Pre-Sales in Europe, Middle East and Africa
Rene studied Aerial Photogrammetry (1990-1995) and Remote Sensing (1990-1996) at the Siberian State Academy for Geodesy. He holds a Ph.D. in Aerospace Imaging, obtained at the same Institution in December 2000.
Rene started his career as a Researcher in Remote Sensing application development and got in touch with the first professional digital Aerial survey camera systems DPA and DMC (by Z/I Imaging). As Project manager for digital Aerial Survey projects he first worked in Germany, became a Project Manager for the Seabed Survey project in the Joint Venture Area offshore Nigeria and later for the country-wide Digital Mapping and Licensing Project of the Emirate of Sharjah (U.A.E.) before he joined RapidEye AG in Germany as a Remote Sensing application developer in 2007. Today, Rene still works for Planet Labs Germany GmbH, the successor of RapidEye AG and BlackBridge AG. As a regional manager he leads a team of 11 Pre-sales Engineers in Europe, Middle East and Africa. Additionally, he is responsible for the technical support of Planets Sales Representatives and Planet Partners in Central Europe and CIS countries. His special field of interest are the geometrical aspects of space sensors and developing customer-specific monitoring solutions for many application fields.
Rene has a long-term experience in consulting Central Asia Governments in aspects of satellite image applications for sustainable development, especially under the conditions of climate change, working also as an external consultant for GIZ, the German Development Aid organization.
Recently, Rene supported disaster response activities for the earthquake in Turkey and for landslides in Georgia.
Events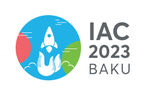 International Astronautical Congress 2023
2-6 October 2023
Baku, Azerbaijan
Participation: