Richard SPINRAD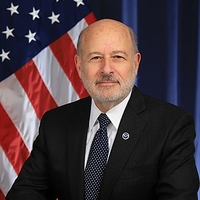 Richard (Rick) W. Spinrad, Ph.D., was sworn in on June 22, 2021 as the Under Secretary of Commerce for Oceans and Atmosphere and the 11th NOAA Administrator. Dr. Spinrad is responsible for the strategic direction and oversight of the agency and its over 12,000 employees, including developing NOAA's portfolio of products and services to address the climate crisis, enhancing environmental sustainability and fostering economic development, and creating a more just, equitable, diverse, and inclusive NOAA workforce.
Most recently, Dr. Spinrad served as a Professor of Oceanography and Senior Adviser to the Vice President of Research at Oregon State University (OSU). He was also Vice President for Research at OSU from 2010-2014. Previously, Dr. Spinrad served as NOAA's Chief Scientist under President Barack Obama from 2014 until 2016. He also led NOAA's Office of Oceanic and Atmospheric Research and National Ocean Service from 2003-2010. While at NOAA, Dr. Spinrad co-led the White House Committee that developed the nation's first set of ocean research priorities and oversaw the revamping of NOAA's research enterprise, including the development of the agency's Scientific Integrity policy.
Dr. Spinrad received his B.A. in Earth and Planetary Sciences from The Johns Hopkins University, and his M.S. and Ph.D. in Oceanography from Oregon State University.
Events

The Global Space Conference on Climate Change 2023
23 May-25 May 2023
Oslo, Norway
Participation: