Sabine VON DER RECKE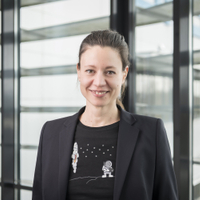 Sabine von der Recke is responsible for Political Relations, Customer Relations and Communications on OHB System AG's Management Board. OHB System AG is one of Europe's leading space technology companies and the largest subsidiary of listed high-tech group OHB SE with a workforce of almost 3,000 throughout Europe. At its two sites in Bremen and Oberpfaffenhofen near Munich, OHB System AG develops and implements innovative high-tech solutions for space flight and other fields of application. Its portfolio of products and services ranges from satellite systems for Earth observation, navigation, telecommunications and reconnaissance to the preparation and implementation of space exploration missions and the development of systems for Astronautical space flight.
Prior to her appointment to the Management Board of OHB System AG, she had served as OHB SE's Management Board Representative for Political and Government Affairs since 2014. She has been the spokesperson for the German Offshore Spaceport Alliance (GOSA) since 2020. After studying political science at Philipps University in Marburg, she worked as a research assistant and office manager in the German Bundestag from 2008-2014, including as an advisor to the parliamentary group on aerospace. Sabine von der Recke is a member of the DLR-Senat, Vice President of the ZARM-Förderverein and a member of the Board of Forum Luft- und Raumfahrt.
Events

The Global Space Conference on Climate Change 2023
23 May-25 May 2023
Oslo, Norway
Participation: