Sandra VOGT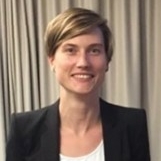 Sandra Vogt works as Industrial Policy Officer in the SME section of ESA's Directorate of Commercialisation, Industry and Procurement. The SME section implements the Agency's SME Policy and associated SME Initiative programme which is intended to facilitate the involvement of Small and Medium-sized Enterprises in ESA's R&D activities and programmes. It also encourages innovation, spin-in and spin-out from space sectors.
Prior to her work in the SME Office, Sandra supported ESA's Gaia mission as Information Manager in the Science Directorate. She started her career with the Agency in the Directorate of Human Spaceflight and Operations.
Sandra holds a Master of Science degree in Public Administration from Leiden University, The Netherlands, with a special focus on public policy and crisis and safety management.
Events

International Astronautical Congress 2021
25-29 October 2021
Dubai, United Arab Emirates
Participation: