Sergey KRIKALEV
ROSCOSMOS • Executive Director for Human Space Flights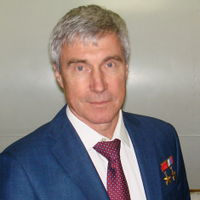 Sergei Krikalev is a Mechanical Engineer, Russian cosmonaut and Executive Director for Human Space Programs of the "Roscosmos" State Space Corporation.
After graduating from the Leningrad Mechanical Institute and earning a degree in mechanical engineering in 1981 Sergei Krikalev became an engineer and four years later became a civilian trainee cosmonaut. He was selected as a cosmonaut in 1985, in a year completed his basic training and was assigned to the Buran Shuttle program.
Sergei Krikalev has made 6 space flights from his first flight in 1988 to his sixth flight in 2005. Sergei has made eight spacewalks (EVA) and for 10 consecutive years he was the holder of the world record for the duration of a total stay in space - 803 days, 9 hours and 42 minutes. He was in space when the Soviet Union was dissolved on December 1991, his return was delayed and he stayed on the MIR space station board for 311 consecutive days, twice as long as the mission had originally called for.
Sergei Krikalev was also the first Russian cosmonaut to fly an American shuttle in 1994.
In December 1998, he participated in the first mission to the ISS to assembly it. In October 2000, Sergei Krikalev began permanent manned presence to the ISS as a member of the first long-term international expedition crew. During this flight, the astronauts met the 21st century in orbit.
Mr. Krikalev was awarded with the Star of the Hero of the Soviet Union and the Star of the Hero of the Russian Federation, he also was awarded four NASA medals, the Order of the Rising Sun, 3rd degree (Japan) and he is an officer of the Legion of Honor (France).
Mr. Krikalev is a Member of the National aerobatic team and a World Champion and a European champion on glider aerobatic.
Events
Videos (1)
Participation