Sergio MARCHISIO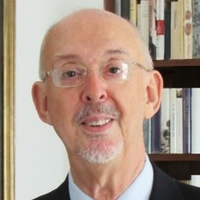 Sergio Marchisio is Professor of International Law and Space Law at Sapienza University of Rome. Chairman of the European Centre for Space Law at the European Space Agency (ECSL/ESA). Member of the Advisory Council of the European Space Policy Institute (ESPI). Member of Board of Directors of the International Institute for Space Law (IISL). In 2018-19, appointed Member of the UN Group of Governmental Experts on Practical Measures for the Prevention of an Arms Race in Outer Space (GGE on PAROS, UNGA Resolution 72/250).
Academic Appointments
Member of the Scientific Board of the PhD in "Public, Comparative and International Law" and of the Academic Board of the Sapienza School for Advanced Studies. Director the 2nd Level Master Course in International Protection of Human Rights. From 1995 to 2015, Adjunct Professor of European Union Law, Faculty of Law of the LUISS University. Founder and Former Director of the Institute for International Legal Studies of the National Research Council (1995-2011). Editor in Chief of the "Italian Practice of International Law", published in 1995. Full list of publications on iris.uniroma1.it
Professional Appointments
Legal Expert at Italian Ministry of Foreign Affairs and Italian Delegate to many international diplomatic conferences, such as the UN Conference on Environment and Development (Rio de Janeiro, 1992) and the Diplomatic Conference of Plenipotentiaries on the Establishment of an International Criminal Court (Rome, 1998).
Since 1997, Italian delegate to the UN Committee on the Peaceful Uses of Outer Space (COPUOS) where he served as Chairman of the Legal Subcommittee (2004-2006), and Delegate to the Working Group on the Long-Term Sustainability of the Outer Space Activities (LTS 2010-2018) where he acted as Co-chair of Expert Group D (Regulatory Frameworks).
Italian Delegate to the EU Council's CODUN (2007-2015) and Member of the EEAS-EU Task Force for an International Code of Conduct on Outer Space Activities (ICoC). Elected Chair of the multilateral negotiations on an ICoC held at the United Nations in New York, in July 2015.
Member of the UN Group of Governmental Experts on Outer Space Transparency and Confidence-Building Measures (GGE on TCBMs, UNGA Resolution 65/68) (2011-2013).
Italian Delegate to the 2001 Diplomatic Conference for the Adoption of the UNIDROIT Convention on International Interests in High Value Mobile Equipment and Protocol on Aircraft Assets. Chair of the Committee of Governmental Experts entrusted to negotiate the Space Assets Protocol to the Cape Town Convention (2001-2012). Chair of the Commission of the Whole of the Berlin Diplomatic Conference, which adopted the Protocol. Since 2013, Chair of the Space Preparatory Commission for the International Registry for Space Assets.
Since 2012, Member of the Specialized Panels of Arbitrators pursuant to the Optional Rules for Arbitrations of disputes dealing with space matters of the Permanent Court of Arbitration.
Events

The Global Conference on Space for Emerging Countries 2022
16-20 May 2022
Quito, Ecuador
Participation:

International Astronautical Congress 2012
1-5 October 2012
Naples, Italy
Participation: