Sotiria STATHOPOULOU
Mynaric • Solution Sales Engineer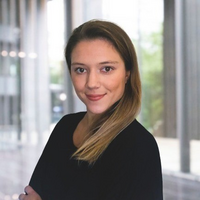 Sotiria Stathopoulou is a Solution Sales Engineer at Mynaric and works closely with Business Development and Engineering to help communicate Mynaric products, develop solutions and capture technical requirements from the market. She brings more than 5 years of experience working in the telecommunication field as an RF solution engineer for terrestrial and satellite networks.
Sotiria holds a Master of Engineering degree in Electrical and Computer Engineering from Greece's National Technical University of Athens (NTUA) with a specialization in Telecommunications and Computer Networks. She began her career as the project manager for the design and implementation of a WLAN network in some rural areas of Greece, connecting people who had previously limited connectivity. Following that, she worked as an RF Engineer, driving the efforts to optimize and maintain/troubleshoot the T-Mobile USA's LTE/UMTS/GSM Access Network utilizing innovative tools and techniques.
Sotiria moved to the United States of America and assisted the NOAA Spectrum Pipeline Reallocation Engineering Study (SPRES) program in evaluating the sharing spectrum impact on federal Earth station users and identifying techniques to enable successful spectrum sharing without compromising the integrity or accessibility of NOAA data. In her previous role as Senior Customer Solutions Engineer in Satellite Communications for Intelsat, she was doing satellite communications system design, feasibility analysis, and solution development for some of the company's most critical customers.
Sotiria also has an M.Eng in Cyber-security from the University of Maryland in the United States of America.
Events

International Astronautical Congress 2021
25-29 October 2021
Dubai, United Arab Emirates
Participation: