Steve KREIN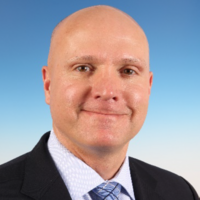 Steve Krein is Vice President of the Civil and Commercial Satellites Business Unit, in the Tactical Space Systems Division at Northrop Grumman. In this capacity, Steve maintains full profit and loss and operating responsibility for a global space business portfolio consisting of human-rated space systems, commercial satellites and satellite servicing initiatives, and science, environmental, and weather space system missions for NASA, NOAA, USGS, and global commercial customers. Steve most recently led the Science, Environmental, Weather & ISR space business at Northrop Grumman (formerly Orbital ATK) with a portfolio including NASA Earth Science, Space Science, Heliophysics, and Interplanetary Missions; NOAA, Commercial, and DOD Terrestrial and Space Weather Missions; Commercial, DOD, and International ISR Missions; and USG Engagement, Industry Collaboration, and Community Outreach.
During Steve's career, he also served as Vice President and Deputy General Manager of the Space Systems Division, ATK Aerospace Group, with responsibility for nine geographically dispersed operations featuring Engineering, Cyber, Spaceflight Systems Manufacturing, and Integration Facilities in four states. Steve previously held the position of Vice President of Thermal & Mechanical Systems for the ATK Space System Group, where he managed the group's global Aerospace Products business. At Orbital Sciences Corporation (formerly Fairchild Space Corporation), Steve held positions of increasing responsibility in spacecraft systems engineering, and he successfully executed design, analysis, test, launch and mission support engineering responsibilities for the Astro Space Division of General Electric Corporation.
Mr. Krein earned a Bachelor of Science Degree in Mechanical Engineering from Syracuse University and a Master of Science Degree in Systems Engineering and Project Management from The Johns Hopkins University, and he studied Corporate Finance, Strategy and Execution at the University of Pennsylvania Wharton Business School.
Events

International Astronautical Congress 2021
25-29 October 2021
Dubai, United Arab Emirates
Participation: