Tahir MERALI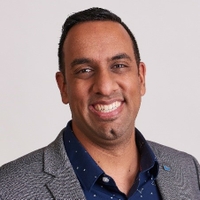 Tahir Merali is a Program and Project Manager, Innovation with the City of Calgary leading projects to enable and shape engagement of various technologies to better communities in one of Canada's largest cities. He is also CEO of Escape Velocity Services Inc. providing project management and strategic guidance to small and medium sized businesses across aerospace, energy, government, and consulting sectors. Mr. Merali is Co-Founder and Director of the Zenith Canada Pathways Foundation that has launched Canada's First Space Fellowship and mentorship program for post-secondary and early career professionals. He is a Strategic advisor & former Chief Operating Officer of 4pi Lab Inc., a Calgary-based earth-observation start-up providing unique early wildfire detection and monitoring capabilities using low-cost satellites for smart, real-time, global coverage. 4pi Lab is regionally recognized as a 2020 Top 15 Startup.
Over the past decades, Mr. Merali has served as a Project Management Engineer with the Canadian Space Agency's (CSA) Enterprise Project Management Office implementing project governance, supporting long-term space strategy and performing systems engineering activities related to the Lunar Gateway and Canadarm3 programs. He also served on the CSA's International Space Station (ISS) Certification of Flight Readiness (CoFR) operations board. Mr. Merali also worked at European Space Agency (ESA) via Airbus as an astronaut instructor and developed and delivered training for crew on ISS systems and operations. He has also reported on the nanosatellite market as a business analyst with Innovative Solutions In Space BV. Supporting Canada's space economy, he was previously Chief Commercial Officer (CCO) of the Canadian Space Commerce Association (CSCA), formerly Canada's trade association for space.
Mr. Merali's work experience gave him the opportunity to visit several countries. He offers unique perspectives having spent nearly 20 minutes in microgravity aboard a parabolic flight and has co-developed 2 microgravity life-science experiments that have flown aboard the ISS. He is also a strong advocate for space awareness and education and has been peer-review published alongside several conference proceedings and panels including several IACs. Mr. Merali is a member of the International Astronautical Federation's Workforce Development-Young Professionals Programme Committee and is the 2021-2022 Co-Chair of the IAF's Mentorship Programme. In 2018, Mr. Merali was awarded globally as a Top 35 Under 35 of the space industry by the International Institute for Space Commerce (IISC).
Tahir Merali is a graduate of the International Space University (M.Sc Space Management) and the University of Toronto (B.A.Sc Mechanical Engineering). He is a licensed professional engineer with the Association of Professional Engineers and Geoscientists of Alberta (APEGA), certified as a Project Management Professional (PMP), and is a PADI-licensed Advanced Open Water Scuba Diver. Tahir was ranked qualified (Top-163) in the 2016 Canadian Astronaut Recruitment Campaign.
Events