Tina GHATAORE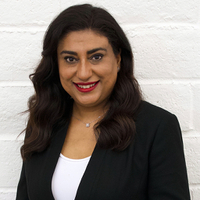 Tina Ghataore is the Chief Commercial Officer of Mynaric and the President of Mynaric USA and leads the company's efforts to position Mynaric as the preferred laser communication provider for aerospace application for both government and commercial markets. Prior to joining Mynaric, she was the Executive Vice President of Inflight Connectivity Solutions at Yahsat, a leading UAE Satellite Operator where she was responsible for the overall strategy and execution of enabling Yahsat to launch into Mobility Satcom Services business.
Tina brings 20+ years of experience in the aerospace/aviation and telecom industries. In 2007 she founded The EKKAM Group, a strategic management consulting firm focused on serving clients in the aerospace/aviation and telecom industries. Key notable clients included Airbus, Panasonic and Thales.
Prior to starting her own consulting business, Tina served as Director of Broadband Communications at Panasonic Avionics Corporation, where she was instrumental in efforts to launch the Panasonics Global Communications Services business, currently serving over 80+ airlines globally. Tina also served as the Director of Strategic Software Applications where she was charged to establish the strategy and grow the software, applications and media business, serving the In-Flight Entertainment and Communications industry.
Tina started her career at The Boeing Company's Satellite Systems business unit. She was integral to the building and launch of Connexion by Boeing (CBB) business, the first of its kind true broadband communications services for commercial airlines. Previously, as part of the business development organization, she participated in the early pursuits of the Teledesic (LEO) and Ellipso (MEO) satellite programs. She was also a key member of the due diligence team efforts, resulting in acquisition of Hughes Space and Communications.
Tina received her Bachelor of Honors Degree in Aerospace Engineering from Kingston University in the U.K. She is also a graduate of the International Space University.
Events

International Astronautical Congress 2021
25-29 October 2021
Dubai, United Arab Emirates
Participation: