Tom Wilson
Tom Wilson is Vice President of Strategy & Business Development at Orbital ATK's Space Systems Group. Mr. Wilson also holds the title of President of Space Logistics LLC. Orbital ATK is a global leader in aerospace and defense technologies, with annual revenues of approximately $4.5 billion and a work force of 12,500 people. The company designs, builds and delivers space, defense and aviation related systems for customers around the globe, both as a prime contractor and merchant supplier.
Mr. Wilson is responsible for the strategy and business development performance of the company's human spaceflight, science, commercial communications and national security satellite activities, as well as Technical Services to various government customers. These include some of Orbital's largest and most important programs such as NASA's Commercial Resupply Services (CRS) initiatives as well as various national security-related programs. Mr. Wilson also leads a newly formed wholly owned subsidiary of Orbital ATK. Space Logistics LLC is chartered with developing the commercial on-orbit satellite servicing market including development of a first of a kind autonomous robotic servicing vehicle. Mr. Wilson is responsible for all aspects of customer engagement and P&L execution. Prior to the merger, Mr. Wilson was Vice President and General Manager of the Space Systems Division, ATK Aerospace Group. In this capacity he was responsible for the overall management of a team of over 500 employees in Maryland, California, Virginia and Texas.
Previously, Mr. Wilson served as Vice President of Strategy, Business Development and Advanced Systems for the Space Systems Group at ATK. He was responsible for managing and coordinating business development and acquisition strategies, and aligning group capabilities with customer requirements.
Before ATK required Swales Aerospace in 2007, Mr. Wilson held key management positions at Swales including Vice President, Corporate Development and Vice President, Space Systems Programs. He also has over 15 years of government experience with the Department of Defense, where he was the staff director for the congressional Commission to Assess U.S. National Security Space Management and Organization, held several positions within the Office of the Secretary of Defense, and with the Naval Center for Space Technology at the Naval Research Laboratory.
Mr. Wilson holds a bachelor's degree in aerospace engineering from the University of Maryland.
Events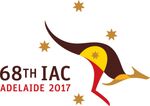 International Astronautical Congress 2017
25-29 September 2017
Adelaide, Australia
Participation: