Trong THU VU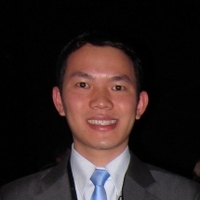 Inspired by black and white pictures of the planet Mars sent back from the Pathfinder '97 mission, then high school Thu was quickly captivated with space stuffs. In 2008 Thu quitted his former job as a software engineer to follow his dream of space, Thu is now leading the team at FSpace laboratory, FPT University in Hanoi, Vietnam with a focus in development and applications of nano-satellites. Their first space mission, F-1 CubeSat were deployed from Kibo module/ISS to orbit together with 4 other CubeSats on October 4th, 2012. The little satellite carried an IAF pin, a miniatured flag of Vietnam and other memorial items to space as a tribute from the team to supporters.
Thu was first exposed to the international space community at IAC 2009 when he was awarded with the IAF Youth Grants Programme. He has since also become the National Point of Contact for Vietnam at Space Generation Advisory Council (SGAC), effectively being the bridge connecting Vietnamese youth and the space community. Thu was recognized as SGAC's Member of the Month in March 2011 and now serving the second term.
Attended the Space Studies Program at the International Space University in 2010, Thu contributed to a paper on asteroid mining roadmap which he co-presented at the 61st IAC in Prague later the same year. Thu has participated in 3 UN/IAF workshops, first as an observer then as a full participant, discussing and sharing his experience with nano-satellites development for social-economic benefits. He also served as a rapporteur for several sessions.
Thu sees peaceful exploration and applications of space as a mean to build trust among people and nations, promote new technology research and bring benefits to the economy. He supports an international, interdisciplinary and intercultural approach to tackle challenges in realizing this goal. Currently, Thu is working with Vietnam Aerospace Association to develop a 2U CubeSat participating in QB50 project – a network of 50 international CubeSats for study of the lower thermosphere and also to develop a plan to host one of future IAF conferences in Vietnam to promote space activities in the region. His favourite quote is "Learn something new everyday".
Events