Ukaegbu Kingsley OGOCHUKWU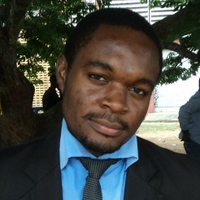 Ukaegbu Kingsley Ogochukwu (born 11 September 1990). Currently a final year student of the Department Environmental Technology at Federal University of Technology Owerri, Southeastern Nigeria. Specializing in the use of GIS and Remote Sensing techniques in environmental monitoring and management especially in pollution control.
Early life
Kingsley was born in Mbano, Imo State, Nigeria into a family of six children as the only son. After completing his primary and secondary education in Imo State, Kingsley enrolled into Federal University of Technology, Owerri Imo State to Study Environmental Technology.
Career
He was interned at National Space Research and Development Agency (NASRDA) Abuja, as part of the requirement for his bachelors' degree in Environmental Technology and during the training Kingsley was introduced to satellite image processing, satellite Image Interpretation and Analysis, geospatial intelligence and among many other applications of GIS and Remote Sensing.
He has served as a GIS and Remote Sensing tutorial-teacher in various schools for a year now and since his return from NASRDA he has been involved as a freelance teacher of GIS and remote sensing for undergraduate students. Kingsley's primary interest is on skills acquisition on space technology, and he believes that younger generations also have a paramount role to play in understanding the numerous mysteries of this technology for adequate application to attain sustainable development. He is also the facilitator of FUTO geospatial club, an avenue he uses to spread the good news of space technology.
Events