Van ESPAHBODI
Starburst • Co-Founder and Managing Partner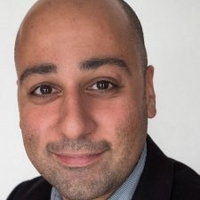 As Co-Founder and Managing Partner of Starburst, Van Espahbodi is championing today's aerospace renaissance, uniting early-stage technology innovators with private investment to modernize infrastructure in mobility, communications and intelligence. Van launched Starburst in the US in 2015, operating globally today with offices in Los Angeles, Paris, Munich, San Francisco, Singapore, Abu Dhabi, and Montreal. His team works alongside 400+ technology startups developing new aircraft, spacecraft, satellites, drones, sensors, autonomy, robotics and much more.
An entrepreneurial futurist, Van has over 15 years of experience in aerospace, identifying future trends, shaping product strategy and investment trade policies. Having worked in Government and Corporate strategy positions in both defense and commercial aviation markets, Van started his career as a congressional aide before joining Raytheon and later UK NATS, the British air navigation service provider. Following graduate studies at George Mason University, Van participated in executive programs at Thunderbird School of Management in AZ and Cranfield School of Management in the UK. He currently serves as a member of the Economic Development Advisory Council for the City of El Segundo and the Advisory Board of the MIT Enterprise Forum.
Over 15 years experience in corporate strategy, business development and public policy.
Specialized in the A&D industry featuring breakthrough innovative technologies
Former UK NATS lead for USA including FAA, NASA and USAF
Former Raytheon International, business development and strategy
Post Grad in International Commerce and Policy at George Mason in Arlington, VA
MBA Extensions in Thunderbird, AZ and Cranfield, UK
Events

International Astronautical Congress 2019
21-25 October 2019
Washington, United States
Participation: