V.S. Hegde
Antrix Corporation Ltd • Chairman and Managing Director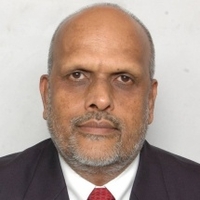 Dr. V.S. Hegde, born in 1952, has a Post Graduate Degree in Applied Geology and Doctorate Degree in Environmental Science. He has been with Indian Space Research Organisation (ISRO) since 1975, contributing in the areas of Aerial Remote Sensing, Earth Observation, Remote Sensing & Satellite Communication Applications, Disaster Mitigation, Societal Applications, International Cooperation and Space Commerce.
Since July 2011 Hegde holds the position of Chairman-cum-Managing Director of Antrix Corporation Limited (Antrix), the commercial arm of ISRO. In this capacity, he spearheads the space commerce activities of Indian Space Programme that encompass leasing of communication transponders, providing launch services for foreign satellites, marketing Indian Remote Sensing satellite data, extending mission support services for foreign satellites, and marketing satellite sub-systems to foreign customers.
Previously, Hegde has held many key positions in ISRO, such as Scientific Secretary, ISRO; Director, Earth Observations System; Member-Secretary of Planning Committee on National Natural Resources Management System (NNRMS); Programme Director, Disaster Management Support; Programme Coordinator, Village Resource Centres; Project Director, Integrated Mission for Sustainable Development. During 1989-1991, he was Founder-Director of Karnataka State Remote Sensing Centre, a vital organ of NNRMS.
Hegde's important contributions to the programmes and activities of ISRO, also of much relevance to national development, include: exploration of groundwater to provide drinking water in villages; landslide hazard zonation in the Himalayas; developing locale-specific integrated action plans at watershed level for management of land and water resources; and environment impact assessment for setting up polluting industries & developmental projects. He has played pivotal roles in implementing the space-based programme for disaster management; and conceptualising & realising the network of Village Resource Centres to take the benefits of space technology to the doorsteps of common man. His contributions in evolving the Remote Sensing Data Policy-2011; and the long-term strategy & plan for Indian Earth Observations System and its utilisation have been significant. He has played an equally pro-active and productive role in building ISRO's international relations and programme management as Scientific Secretary.
Hegde has to his credit over 60 technical reports, and over 90 technical/ research papers. The scientific achievements of Hegde have been recognised by awards conferred on him, namely, the ISRO Performance Excellence Award for individual (2008); the ISRO Team Excellence Awards for: Village Resource Centre Programme – Team Leader (2008), Rajiv Gandhi National Drinking Water Mission (2008), Telemedicine Programme (2008) and Disaster Management Support Programme – Team Leader (2007); the Map World Forum Award of Excellence for Village Resource Centre Programme (2008); and the Astronautical Society of India Award for Space Science & Applications (2006).
Since 2008, Hegde is IAF Vice-President for Honours and Awards. He is also Fellow, Astronautical Society of India; Member, International Academy of Astronautics; life Member, Indian Society of Remote Sensing; and Fellow, Geological Society of India.
Events

International Astronautical Congress 2012
1-5 October 2012
Naples, Italy
Participation: