Xavier MAUFROID
European Commission • Head of Sector Galileo Implementation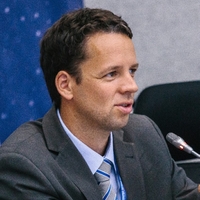 Xavier Maufroid is Head of Sector for Galileo Implementation in the Directorate General for Defence Industry and Space in the European Commission. He has been working on the Galileo Programme since 2008 when he joined the European GNSS Agency with specific emphasis on Galileo space segment deployment and the overall implementation of the Galileo Search and Rescue service. Between 2008 and 2019, he has been the representative of the Galileo Programme to the International Cospas-Sarsat Programme coordinating the technical and programmatic integration of the Galileo contribution to Search and Rescue as part of the Cospas-Sarsat MEOSAR system.
He started his career in 2000 as a satellite system engineer in Thales Alenia Space working on the Skybridge satellite constellation telecom project. From 2002 to 2006 he worked at the European Space Agency as a payload engineer on R&D and prototyping projects for high throughput telecom satellites. He then joined Newtec (Belgium), a satellite telecom ground segment and systems provider, working as a technical project manager for the deployment of an IP exchange network over satellite for the Arab States Broadcasting Union.
Xavier holds an MSc in electrical engineering from the Catholic University of Louvain in Belgium and a specialized master in space technologies from SUPAERO.
Events

International Astronautical Congress 2021
25-29 October 2021
Dubai, United Arab Emirates
Participation: