Yunus Emre ARSLANTAS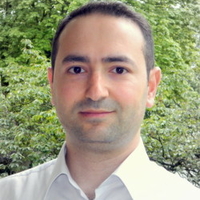 Yunus Emre Arslantas graduated from Aerospace Engineering Department at Middle East Technical University-Turkey in 2008. He worked as research assistant and completed his M.Sc. degree in the same department. In 2009, he earned the graduate scholarship of TUBITAK (The Scientific and Technological Research Council of Turkey). In 2010, he joined TUBITAK to become an active member of the international space community.
He worked in the organization of United Nations/European Space Agency (ESA)/TUBITAK Workshop on Space Technology Applications for Socio-Economics Benefits in 2010. He represented Turkey in the UNCOPUOS Scientific and Technical Subcommittee meeting in 2011. At the same year, he attended International Space University Summers Studies Programme (SSP) with support from ESA. He is the co-author of the "Guidebook on Small Satellite Programs", which was prepared for team project during the SSP'11. He also took part in organization of Group on Earth Observation (GEO) VIII Plenary Session and preparation of the bid to host COSPAR Scientific Assembly in Turkey. He previously presented at IAC in 2011.
In 2012, he has been awarded with research fellowship from DLR (German Aerospace Center) and German Academic Exchange Service (DAAD). He is currently pursuing his Ph.D. in the GNC Department of DLR Institute of Space Systems-Bremen in cooperation with Center of Applied Space Technology and Gravity (ZARM). His research is about determination of attainable landing areas for lunar and interplanetary space missions. His research interests include guidance algorithms, trajectory optimization, control theory and reachability analysis of nonlinear systems.
Events