GNF: Global Exploration at a Cross Road: the Role of Europe
Day: Thursday 17 June 2021
Time: 11:40-12:10 MSK
As history has shown, exploration transforms and adds value to society by providing:
New knowledge acquired in new locales (science, technological progress);
A different perspective on our origins as a species ("pale blue dot" effect);
Fresh context for our societal value.
All this allows us to imagine the next reality, our next paradigm – something previously thought impossible.
Revamped political ambitions, the availability of more modern technologies, the access to more capital – both private and public – all contribute to setting humanity's sails on the most ambitious and global exploration initiative ever undertaken. Here, Europe and Europeans, a population of explorers, claim their role as a key international partner for the progress of humankind.
Airbus is pleased to organise a fireside chat with distinguished European guests to elaborate on European ambitions and capabilities in a global context.
This session is organized by

Moderator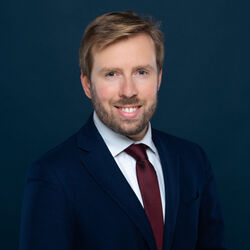 Pierre-Alexis JOUMEL
Director International & New Business, Space Systems, Airbus Defence and Space GmbH
Germany
Speakers Connected Remotely