Venue & Accommodation
Welcome to GLOC 2023 in Oslo
GLOC 2023 will take place at Radisson Blu Scandinavia Hotel, Oslo, a centrally located hotel in downtown Oslo in walking distance of all major sights and attractions. The venue offers a main conference hall in addition to two seminar halls, exhibition space, additional meeting rooms and luncheon areas.
Address: Holbergsgate 30, Oslo, 166, Norway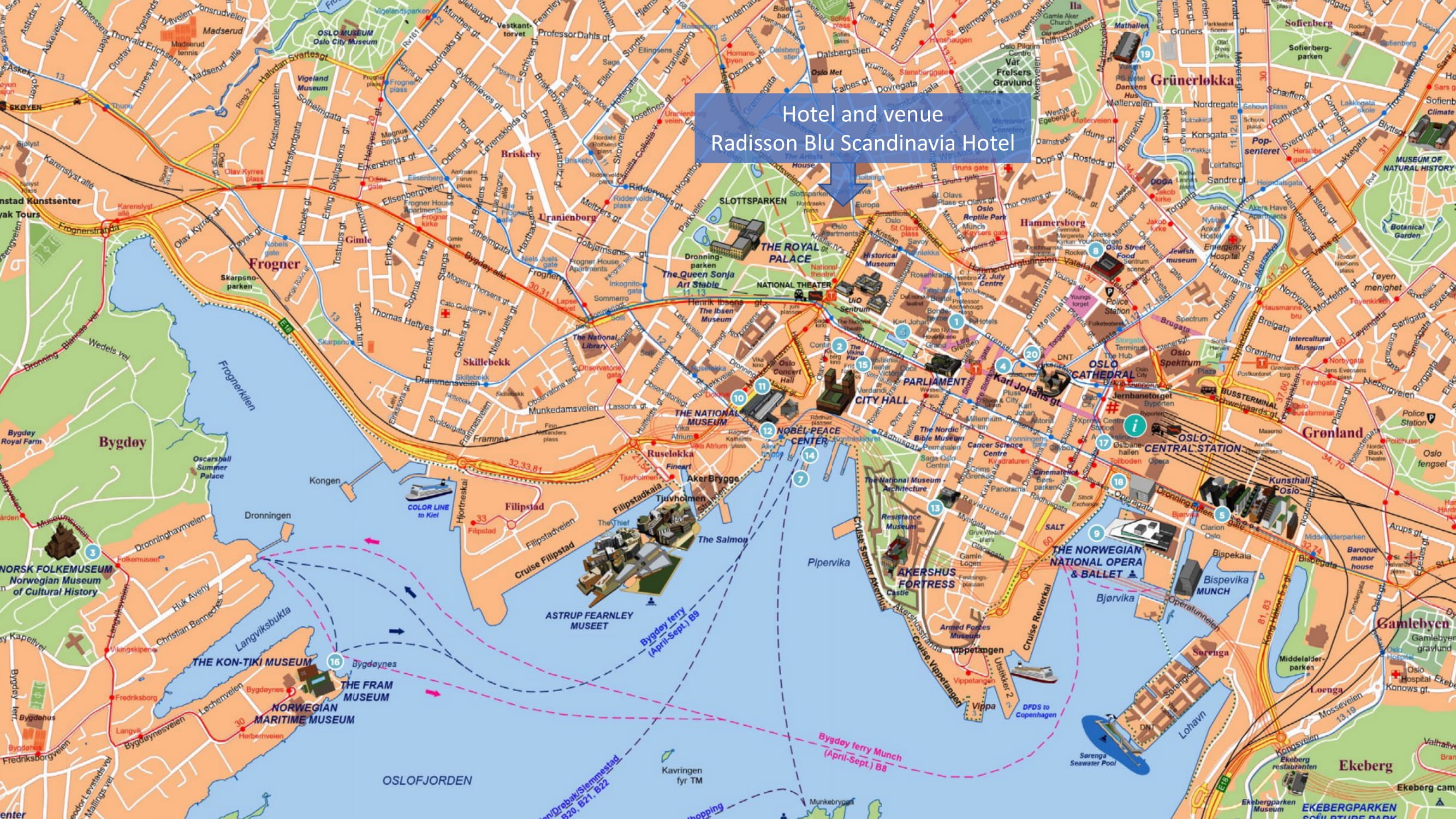 Hotel
The hotel features 499 well-appointed rooms and suites with welcoming amenities such as a top-notch Jensen Bed and a safe to store valuables. Additionally, access to the Lagoon fitness center and pool area comes complimentary with all room reservations.
Oslo's main street, Karl Johans Gate, is just minutes away, and the Royal Palace, new National Museum, Munch Museum and Opera House are all within walking distance. For exploring further afield, there are a number of public transport links just outside the hotel, including the Nationaltheatret metro and train station.
And last, but not least: Mesmerizing views of Norway's capital city and the nearby fjord can be enjoyed from the Summit bar on the 22th floor.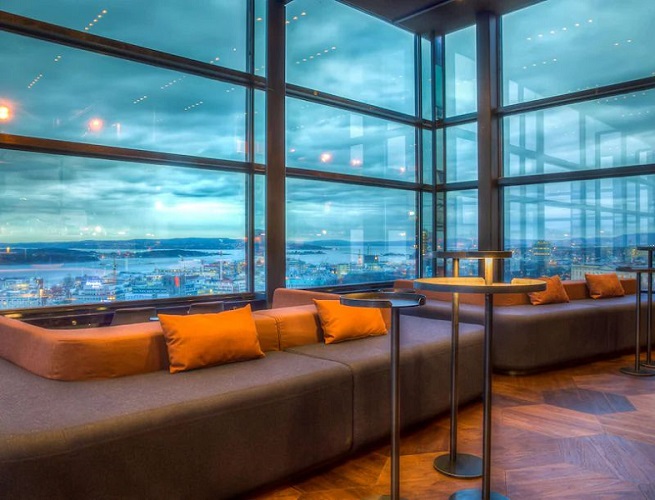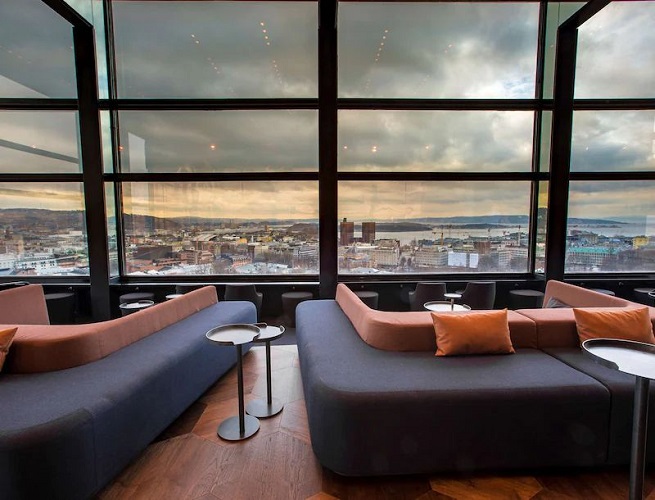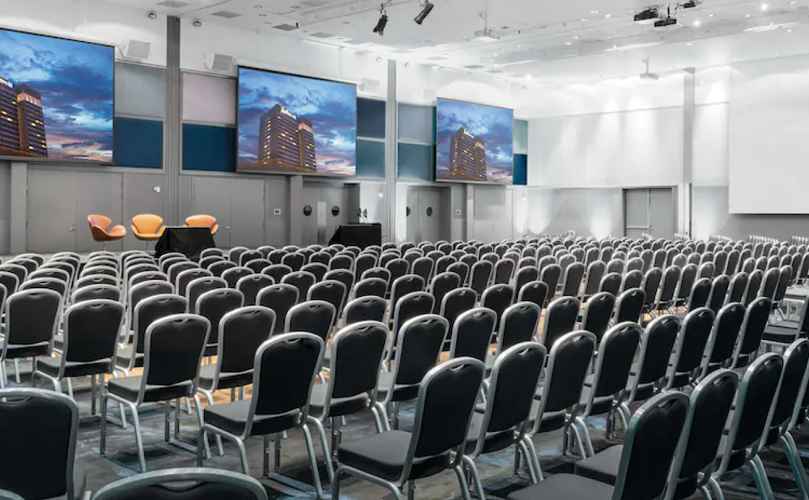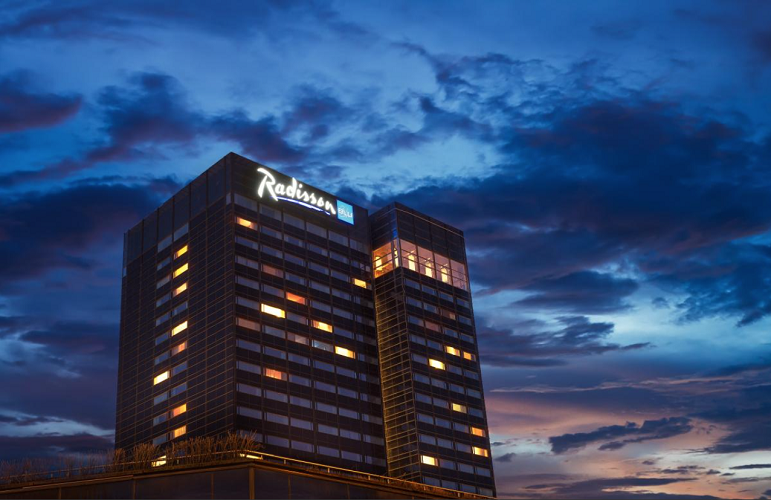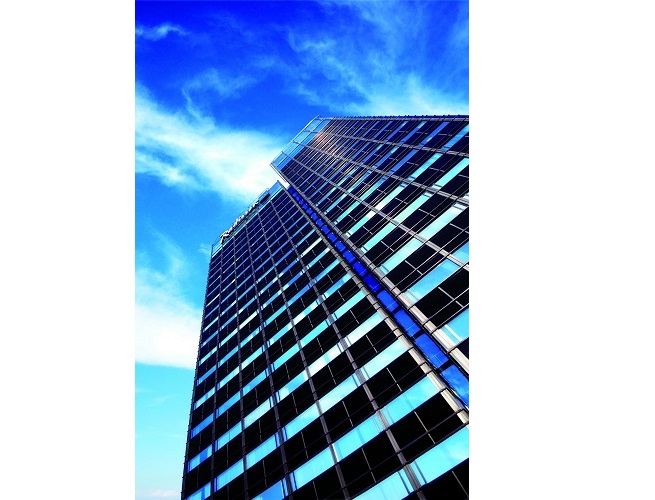 Transport
Oslo, the capital of Norway with a population of 700 000, is located in the Southeastern part of the country. It is accessible by airplane, train, bus, ferry and car.
General info on travel to Oslo https://www.visitoslo.com/en/transport/to-oslo/
Oslo Airport is located at Gardermoen, 47 kilometres (29 miles) north of Oslo's city centre.
Travelling between Oslo Airport (OSL) and the city centre by bus, train or taxi is easy. Train is most time efficient. The Airport Express train or regional lines takes you to Oslo Central Station in 22 minutes.
There is another airport located 110 km south of Oslo, Torp Sandefjord Airport, close to the city of Sandefjord. Transport options to Oslo are bus, train, taxi or rental car.
Getting around
Bus, metro or tram are convenient ways of getting around in Oslo. Or simply by feet, as most of the attractions are situated in or near the city centre.
Read more about how get around the city https://www.visitoslo.com/en/transport/in-oslo/
Phone
Prefix for Norway is +47, or 0047. Telenor and Telia are the two main providers of mobile networks in Norway. Oslo has excellent 5G and 4G+ coverage.
Money
The Norwegian currency is NOK (Kroner) which is sometimes mistranslated into "crowns" in English. Approximately exchange rate (August 2022): 1 EUR = 10 NOK, 1 USD = 9,5 NOK
Cash is no longer king in Norway, and almost all establishments now accept debit or credit cards. Visa and MasterCard are the most commonly accepted credit cards, fewer accepting Amex or Diners.
Oslo – culture, skyline and sauna
The capital of Norway is the country's most densely populated and most culturally diverse area. Located between the fjord and the surrounding forest Oslo is a town rich in culture – and unusually close to nature.
Since the new opera house put the town on the world's architectural radar in 2008, the city has gotten a brand-new skyline, and ambitious city development projects have transformed old areas and created whole new neighbourhoods.
Visual highlights in Oslo ranges from new landmark buildings to experimental street art. When you are done taking in the cityscape, it's time to explore the city's cultural attractions.
The MUNCH's collection, left to the city of Oslo by the artist himself, consists of paintings, graphical prints and drawings. Edvard Munch has a unique position among Nordic painters and is considered a pioneer in expressionism. The Munch museum opened in 2022 and of course you will find the famous painting «The scream» in the new museum.
The new National Museum also opened in 2022. It is the largest art museum in the Nordic countries. In the new exhibitions, older and modern art, architecture, design, arts and crafts, and contemporary art are presented under one roof and in new settings.
Urban sauna culture from our neighbours in Finland has taken Oslo by storm. The fjordside saunas are located along the harbour promenade and boasts several options for sauna sessions followed by refreshing dips in the fjord.
Other must-sees are the Royal Palace, the Akershus Fortress, the Vigeland Park and the islands.
Visit Oslo, the best site to pick up tourist information and tips for Oslo
USEFUL LINKS
Munch museum
National Museum
Vigeland Park
Akershus Fortress
Islands
Saunas
Videos