Late Breaking News 3: SpaceX Dragon visit to the International Space Station
5 October 2012, 8:00 – 08:45
Introducing the third 'breaking news' session of the week Barry Matsumori, Senior Vice-President of Commercial Sales and Business Development at SpaceX, quipped that he and his colleague Robert Feierbach, Vice-President of Business Development, were the only two employees not working on Sunday's launch.
On the heels of a successful debut flight to the Space Station in May of this year, SpaceX launches its first commercial Dragon resupply mission to the Space Station under a contract that will see 12 such missions.
Launch of the SpaceX CRS-1 flight was set for 20:35 EDT on 7 October from Launch Complex 40 at the Cape Canaveral Air Force Station, Florida.
After arrival at the ISS on 10 October, Dragon, grappled and berthed to the complex for an expected two-week visit, is scheduled to return to Earth on October 28 for a parachute-assisted splashdown off the coast of southern California.
Dragon is currently the only Space Station cargo craft capable of returning a significant amount of supplies back to Earth, including experiments.
For this mission, it is filled with about 1,000 pounds of supplies, including critical materials to support the 166 investigations planned for the Station's Expedition 33 crew.
Dragon will return with about 734 pounds of scientific materials, including results from human research, biotechnology, materials and education experiments, as well as about 504 pounds of Space Station hardware.
Matsumori explained that SpaceX had been in existence for just a decade, making it a young company in aerospace terms. "We have come a long way in that time and now have 1800 employees which are growing at around 200 per year," he said.
SpaceX currently launches from Cape Canaveral Air Force Station in Florida and Vandenberg Air Force Base in California but Matsumori said the company is looking at the possibility of an additional commercial launch site.
"We want to ensure we have plenty of capacity and a new launch site would be used particularly for sending payloads into geostationary orbits," he said. Potential sites under evaluation are in South Texas, where the company also has an engine test range, Florida, and "other locations" on mainland USA.
Matsumori wasn't able to provide further details but said that the timing of any new site coming on stream would be largely dependent on the length of time required for environmental approvals.
He described SpaceX as an 'internet' company and said that it had a reputation in the industry for being very competitive, and was driven by the goals of achieving high reliability and lost cost production.
The company's current product line comprises the Falcon 9 rocket and Dragon capsule, the Falcon 9 with a 5.2 metre fairing, and the upcoming Falcon Heavy – essentially made from three Falcon 9's strapped together – which is under development.
"The Falcon 9 – so-called because it has nine engines and after the Millennium Falcon spacecraft of Star War's fame – is a two-stage vehicle for reliability and simplicity," he explained.
During the session, Matsumori also gave a technical overview of the summer's COTS 2 (Commercial Orbital Transportation Service) mission carrying cargo to the ISS for the first time and showed a short film of mission footage.
Afterwards, he said the simplicity of the film wasn't able to convey the true complexity of the flight in all its detail. "It was our first mission to the ISS and we didn't want to make any mistakes," he told delegates.
Speaker: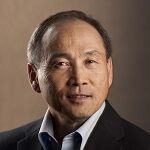 Barry MATSUMORI
Senior Vice President Of Business Development and Advanced Concepts, Virgin Galactic L.L.C
United States