Global Real-Time Exchange Satellite Constellation Project
Friday 29 September 2017, 11:00 – 12:00
Location: Adelaide Convention Center – Riverbank 7&8
What we are going to present to the world in this GNF, it's our latest progress of the first global narrow-band data exchange satellite constellation developed by affiliated companies of China Aerospace Science and Technology Corporation (CASC). Now most of planet on earth is still lack of methods of communication, when you on the sea, in the air or rural area, it is very difficult for you or your assets to establish connection with outside world. Combines with inter-satellite link technology, our two-way real-time communication system will establish an interpersonal and M2M communication solution for all the users in the world. Our slogan is we are always online.
Data Exchange satellite (De-Sat) constellation consists of global network of 60 LEO small satellites and accompanying ground infrastructures. De-Sat system enable industry and public users to track, monitor, control and communicate with fix and mobile assets located anywhere on earth in real-time. Combine with inter-satellite link technology, we believe our system can provide the most cost-effective communication services with the largest coverage in the world. De-Sat devote itself to establish a global communication network to promote international communication interconnection and information sharing, and to assist mankind to build an information silk road. As a multi-function and wide-ranging constellation system, De-Sat Integrates data acquisition, data exchange, mobile broadcast, ADS-B, AIS and navigation augmentation functions, we dedicate ourselves to improve industry assets visibility and productivity, and connect people on this planet with one constellation in a very low cost.
Data acquisition and data exchange system can serve government agencies, army (Ground and Air force), and Industry enterprises, in the area of Water Conservancy, Earthquake, Meteorology, Environmental Protection, Transportation, Marine, and Forestry etc. We can provide services as follow:
Global asset state supervision and control;
Personnel and Goods positioning;
Communication Service (Real-Time);
Emergency Rescue.
AIS Payload, Meet the shipping global AIS communication demand, ensure the safety of a variety of navigation application, to protect the Marine environment and efficient freight without any blind area around global. By ship AIS may also complete the sea rescue and maritime traffic management. To capture AIS signal in real-time and perform data demodulation, using international standard system which accords with ITU-R M.1371-5.

What is ADS-B payload, ADS-B provides specialized air traffic management and air traffic control services.
Automatic -It's always ON and requires no operator intervention
Dependent -It depends on an accurate GNSS signal for position data Surveillance
It provides "Radar-like" surveillance services, much like RADAR Broadcast
It continuously broadcasts aircraft position and other data to any aircraft, or ground station equipped to receive ADS-B
Navigation Augmentation, which can achieve accurate positioning of sub-meter level, so it will be widely used in agriculture, city mapping and accurate navigation.
First, we are going to launch 12 satellites of this constellation in 2019, and by the year 2021, after constellation network complete, there will be a global coverage real-time communication system serve the human race, every single person can use this technology everywhere on this planet with their cellphone, and we will never be along.
Speaker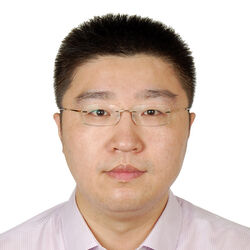 Mu JIA
Vice President, China Great Wall Industry Corporation
China
Anchor Sponsor
Platinum Sponsor
Gold Sponsor
Silver Sponsors
Bronze Sponsors
Sponsors
Media Partners