Shaping the future with Ariane 6
Wednesday 27 September 2017, 12:00 – 12:00
Location: Adelaide Convention Center – Hall C
ArianeGroup develops and supplies innovative and competitive solutions for civil and military space launchers. It is the lead contractor for Europe's Ariane 5 and Ariane 6 launcher families, and its activities cover the entire life-cycle of a launcher: design, development, production, operation and commercial service – the latter through its subsidiary Arianespace. A joint venture equally owned by Airbus and Safran, it employs 9,000 highly qualified staff in France and Germany.
ArianeGroup's expertise encompasses all aspects of state-of-the-art propulsion technologies for launchers – both liquid and solid – as well as energetic materials and composites. Together with its subsidiaries, ArianeGroup also enjoys a global reputation as specialist in the field of equipment and propulsion for satellites and space vehicles.
For the group, the future starts now: on September 13, 2016, the European Space Agency member states gave their final go-ahead to the new heavy launcher Ariane 6. Innovative and well-adapted to new market segments at competitive prices, the launcher will continue the unique success-story of Arianespace, a leader in the commercial satellite market for the last three decades, with more than 550 satellites placed into orbit since 1980.
Looking to the future with confidence, ArianeGroup and Arianespace are focusing on innovation. Ariane 6, with a maiden flight scheduled for 2020, will provide launch solutions for commercial and institutional customers. Its highly modular design offers unprecedented flexibility – a critical attribute in today's rapidly-changing market.
With a very spacious fairing, Ariane 6 can lift any type of payload into an optimized energy-saving orbit, in LEO, GTO or SSO. It is perfectly suited not only to "conventional" single or dual missions, but also, with an upper stage powered by the re-ignitable Vinci engine, to complex missions addressing new market requirements, such as all-electric propulsion satellites, or batches of satellites for constellations.
Ariane 6 will be available in two different versions:
The four-booster Ariane 64 (up to 12 metric tons into GTO, in a dual launch)

The two-booster Ariane 62 (over 4.5 metric tons into GTO, or 7 metric tons into SSO)
ArianeGroup is also preparing now for the future of Europe's launchers beyond 2030, and has recently developed a low-cost reusable engine demonstrator named Prometheus, which runs on Lox-Methane, designed to equip launchers as of 2030. Prometheus is based on a new concept and is being created with the extensive use of innovative design and production methods and technologies such as 3D printing, predictive maintenance and digital control.
Speakers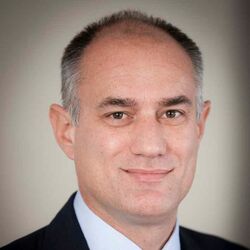 Anchor Sponsor
Platinum Sponsor
Gold Sponsor
Silver Sponsors
Bronze Sponsors
Sponsors
Media Partners