The Great Barrier Reef: Assessing its health from space
Thursday 28 September 2017, 17:45 – 18:45
Location: Adelaide Convention Center – Hall C
Stretching for over 2300 km, Australia¹s Great Barrier Reef (GBR) is one of the great natural wonders of the world. It is home to a vast number of marine species and provides recreational opportunities for visitors from all over the globe. The Reef hosts more than 600 different types of soft and hard coral, and fish and mollusk species number in the thousands. This vast number of ecological communities make it one of the most complex natural ecosystems in the world.
This gem of the world is under severe attack. Coral bleaching is devastating the very fabric of the reef with ominous consequences for the species that inhabit the reef. It only takes an increase of one degree Celsius in the local water for approximately one month to generate a bleaching event. Presently, the GBR is undergoing another severe bleaching event.
Heat from the atmosphere is finding its way into the ocean contributing to ocean warming. Satellite observations are helping to monitor the health of the GBR indirectly by measuring various ocean parameters and directly by studying the reef itself. This highlight lecture will discuss: 1) the history of the reef; 2) the health of the reef; 3) the causes of the attack; 4) how we can measure and track the conditions from space; and 5) what the prognosis is for the reef and the species that reside there.
Moderator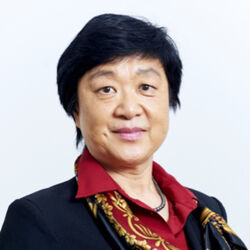 Chiaki MUKAI
Astronaut and Vice-Director for Human Space Systems and Utilisation Mission Directorate, Japan Aerospace Exploration Agency (JAXA)
Japan
Speaker
Anchor Sponsor
Platinum Sponsor
Gold Sponsor
Silver Sponsors
Bronze Sponsors
Sponsors
Media Partners