Building the Lunar Ecosystem Today - Actions from Industrial and Agencies
Day: Thursday 28 October
Time: 09:40 -10:35 GST
Location: Sheikh Rashid Hall F, Dubai World Trade Centre
It is a fact: humanity is moving towards a sustainable presence in space, starting with a settlement on the Moon. Many initiatives are taken all over the world to prepare the return of humans on our natural satellite before the end of the decade: the USA with Artemis, China & Russia with ILRS, Europe with ORION and EL3, and many other nations (UAE, Japan, South Korea, India…). In addition to space agencies, we already see commercial companies developing on that topic. While some focus on transportation to the Moon surface, others start looking at supporting a sustainable human presence, with the utilization of local resource, the production of energy, the refueling in space, or the improvement of life support technologies...
Indeed, only the development of a cis-lunar economy based on Moon resources utilization would allow a successful return and a sustainable presence on the Moon. In that prospect, the best of Space and Terrestrial technologies will be necessary, and international & cross sectoral collaborations will be key success factors.
With this panel, we propose to highlight the vision of key space agencies in the Moon exploration (CNES, LSA & MBRSC) and some initiatives taken by the industries from Space (ADS), Earth (Air Liquide), and New Space (ISPACE) to contribute to the development of a lunar ecosystem, with one common objective: the development of a sustainable and peaceful Moon economy, for the benefit of Humanity.
This session is organized by
Moderator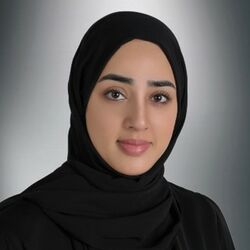 Sara ALMAEENI
Emirates Lunar Mission Project Scientist, Mohammed Bin Rashid Space Centre (MBRSC)
United Arab Emirates
Speakers