Helga and Zohar Travel to the Moon: an International Collaboration aboard Artemis I
Day: Tuesday 20 September
Time: 15:00 - 15:50 CEST
Location: Room N01, Level 3, Hall 7, Paris Convention Centre
The Matroshka AstroRad Radiation Experiment (MARE) will measure for the first time in history the radiation dose deposition into the human body in deep space. To achieve this, two anthropomorphic female human phantoms, Helga and Zohar, are being sent around the Moon on Artemis I. Zohar will be adorned with the AstroRad vest, a possible radiation countermeasure for future human exploration. The findings of this study will serve to improve the safety of crew members as we near the first entry of a human being into deep space and outside of Earth's protective bubble since 1972.
MARE is an international collaboration between NASA, DLR and ISA and is supported by two key industry partners: Lockheed Martin and StemRad. This panel will discuss how this collaboration was initiated at the 2015 IAC in Jerusalem, the importance of the study, and what each of the partners "brought to the table"; briefly, a well-established heritage of sending human phantoms into space, a nascent idea for a radiation countermeasure derived from an on-Earth nuclear application, a company building an exploration spacecraft, a strong expertise in radiation dosimetry and analysis for crew protection and, critically, key stakeholders who believed in taking advantage of the rare opportunity to fly a large scientific payload to deep space and were able to harness their respective agencies to support this both monetarily and politically.
The panel is comprised of MARE principle investigators for NASA and DLR and ISA, alongside Lockheed Martin's program manager for AstroRad. Our moderator is a longtime member of IAF who is very familiar with the panelists and the MARE study. We wish that our experience serve as an example and an inspiration for researchers, industry professionals and agency stakeholders aiming to work together for the advancement of space exploration.
This session is organized by:

Moderator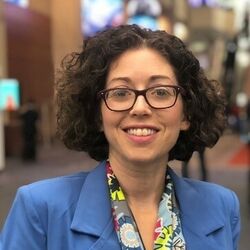 Deganit PAIKOWSKY
Lecturer, Department of International Relations, Hebrew University of Jerusalem
Israel
Speakers