Opening Up of Indian Space Sector- Global Perspective
Day: Wednesday 21 September
Time: 14:50 - 15:40 CEST
Location: Room N01, Level 3, Hall 7, Paris Convention Centre
Led by Indian Space Research Organisation (ISRO) India's space program has impressively evolved for the past 50 years. In terms of technological capabilities India ranks among the top 5 space faring nations of the world. India is globally recognised for building low-cost satellites and launch vehicles. The global space economy is estimated at ~US $440 billion. Despite having world's most accomplished space program, India's space sector accounts for a 2-3% of the global space economy. To increase the share in the global business, Government of India has initiated the space sector reforms, to promote, handhold, regulate and authorise private enterprises and start-ups to undertake space activities.
An independent nodal agency under Department of Space - the Indian National Space Promotion and Authorization Centre (IN-SPACe) has been created on June 24, 2020. This will enhance the diffusion of space technology and boost space economy within the country, for a resurgent, AatmaNirbhar Bharat. These far-reaching space reforms initiative, promulgated by the Government of India in June 2020 are expected to give a major fillip to private sector space industry, including the start-ups. Additionally, it will enable commercialisation of space technology, boost private investments, preparing the youth as space leaders, innovations in the sector for the progress of humanity.
Earlier during March 2019, Cabinet approved creation of new company "New Space India Limited (NSIL)" to; enhance ISRO- Industry interface & Carry out Commercialization of ISRO's space products & services. NSIL is a wholly owned Government of India Undertaking / Central Public Sector Enterprise, under the administrative control of Department of Space.
Presently, FDI in space is allowed under government route only for satellite establishment and operations. FDI in space is approved by the Government on a case-by-case basis and often this approval takes time. However, witnessing the change in approach of the Indian Government towards private players involvement, Indian companies will be allowed to invest up to 100% and 70% through FDI with approval of centre in all the streams viz. Upstream, mid-stream and downstream segment.
To ensure effective collaboration between Indian and foreign players, IN-SPACe would be the agency in charge for facilitating foreign investment in space sector and will provide a one-stop interface for foreign players to enter Indian space market. In this context, the panel involving the representatives from Government of India, Indian industry and global space industries will share their perspectives from both the national and global point of view.
This session is organized by
Moderator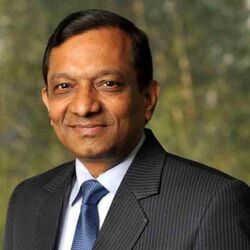 Pawan GOENKA
Chairman, Indian National Space Promotion Authorization Centre (IN-SPACe)
India
Speakers