Indian Space Policy 2023: Emergence of India as Global Space Hub
Day: Thursday 5th October
Time: 15:45 - 16:30 AZT (GMT+4)
The Indian government initiated the space sector reforms, under the visionary leadership of the Hon'ble Prime Minister of India and his clarion call for Make in India, Make for World. As part of the reforms, the Indian National Space Promotion and Authorization Centre (IN-SPACe) was established on 24th June 2020. IN-SPACe has been found to promote, enable, authorise and supervise Non-Government Entities (NGEs) to undertake space activities as an integral part of the Indian space program. Over the past three years, the Indian NGEs and the private sector have received these reforms very well. Today, IN-SPACe has received over 300 proposals submitted by NGEs and registrations from over 1200 space organisations.
On 6th April 2023, the Indian government approved India's much-awaited Indian Space Policy 2023. This national space policy of the Government of India seeks to institutionalise private sector participation in the space sector with the Indian Space Research Organization (ISRO) focusing on research and development of advanced space technologies and IN-SPACe focussing on the development of space ecosystems in the country. Thus, the policy delineates the roles and responsibilities of ISRO, IN-SPACe, NGE and NewSpace India Limited (NSIL). The policy document has been optimistically welcomed as an essential step that would significantly broaden India's opportunity for further enhancing its stake in the global space economy.
In this context, IN-SPACe proposes to use the Global Networking Forum (GNF) to deliberate with our global partners the essence of the Indian Space Policy 2023 and the means to realise its stated objectives. At the GNF, we would also examine the potential of the Indian Space Policy 2023 to catapult India's capabilities as a friendly space-faring nation, one that aspires for Make in India, Make for World, and with sufficient competence to serve the national space economy and constructively contribute to the global space economy.
Organized by:

Moderator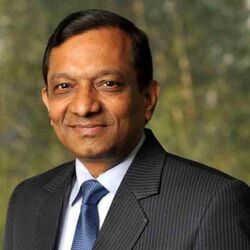 Pawan GOENKA
Chairman, Indian National Space Promotion Authorization Centre (IN-SPACe)
India
Speakers