IAF Abstract Mentor Programme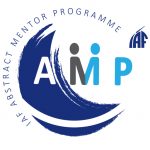 Get involved with the IAF Abstract Mentor Programme!
Need some help with your IAC 2023 abstract? The International Astronautical Federation (IAF) is continuing the successful Abstract Mentor Programme (AMP), which was introduced in 2018, with the objective of helping young or less experienced researchers improve their abstracts before submitting them, to increase the chance of their work being accepted for presentation at International Astronautical Congress (IAC). If you are new to writing abstracts, our expert mentors can provide advice and feedback on how to develop successful abstracts and increase your chances to present at IAC 2023.
The IAF Abstract Mentor Programme is open to anyone and is completely independent of the abstract review and selection process. The programme especially targets researchers and new authors from resource-limited settings, who lack access to opportunities for rigorous mentoring in research and writing.
Mentors will be paired with early career mentees based on their common field of interests (Science & Exploration, Applications & Operations, Technology, Infrastructure, Space & Society).
Submit Your Draft Abstract for Mentoring
The IAF Secretariat will coordinate requests for mentorship and connect you with a mentor on a first-come, first-served basis – matching content area.
Steps to participate:
Prepare a draft abstract in accordance with the IAC 2023 abstract submission requirements: https://www.iafastro.org/assets/files/events/iac/2023/iac-2023-abstract-submission-faq.pdf
Complete the Mentee Application Form and send it to amp@iafastro.org, requesting participation in the programme. Indicate in the form the category that best fits your abstract.
The application deadline for participation in IAF Abstract Mentor Programme is 20 January 2023.
The IAF Secretariat will confirm receipt, and provide you with information about your mentor pairing. You will be linked with a mentor by email.
Communicate specific questions and concerns regarding your abstract with your assigned mentor.
Your mentor will establish appropriate terms of communication (number of revisions, type of guidance, availability, estimated timelines, etc.) and help you to revise and edit your abstract. Please keep in mind that mentors are volunteers, and be considerate of their time.
Mentoring is completely separate from the actual IAC 2023 abstract submission process, review, and selection; mentors have no influence on abstract acceptance.
You, not the mentor, will be responsible for submitting the final abstract via the IAF Portal https://iafastro.directory/iac/account/login/ by the new submission deadline 28 February 2023.
Become a Mentor
Mentors can apply for the programme until 15 December 2022 by sending the AMP Mentor Form to amp@iafastro.org.
Mentors must have had at least two abstracts accepted at an IAC and/or should be a member of the International Programme Committee. Becoming a mentor presents an excellent opportunity for enhancement of leadership and coaching skills.
Learn more about the IAF AMP at https://www.iafastro.org/news/iaf-abstract-mentor-programme.html
Questions? Contact us at amp@iafastro.org