UN/IAF Workshop
The IAF and the United Nations Office for Outer Space Affairs (UN-OOSA) organise an annual workshop held in conjunction with the International Astronautical Congress. The workshop addresses each year a topic that is of particular interest to space emerging nations.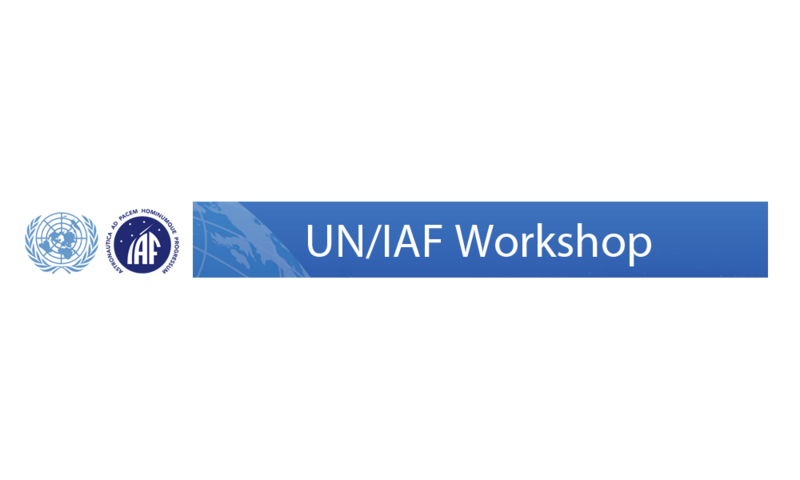 The objective of the UN/IAF Workshop on Space Technology for Socio-Economic Benefits is to provide, year after year, a unique forum for discussions among space experts, decision makers, representatives from the academic community and private industry representatives.
The Workshop aims at facilitating exchanges on space science, technologies, applications and exploration in support of economic, social and environmental development with a focus on inclusiveness as an underlying factor in sustainable development. Participants are encouraged to share their experiences and to examine opportunities for better cooperation.
More about last UN/IAF Workshop
List of all UN/IAF Workshops:
UN/IAF/Canada Workshop on Space Technologies for Development,
2- 5 October 1991, Montreal, Canada
UN/IAF/COSPAR/AIAA Symposium on Space Technology in the Developing Countries – Making it Happen,
28 – 30 August 1992, Washington D.C., USA
UN/IAF Workshop on Organizing Space Advices in Developing Countries: Resources and Mechanisms,
15 – 17 October 1993, Graz, Austria
UN/IAF Symposium on Benefits of Space Technology for Developing World: From Economic Growth to Environmental Protection,
6 – 9 October 1994, Jerusalem, Israel
UN/IAF Workshop on Space Technology for Health Care and Environmental Monitoring in Developing Countries,
28 September – 1 October 1995, Oslo, Norway
UN/IAF Workshop on Education and Awareness: Space Technology and Applications in the Developing World,
3 – 6 October 1996, Beijing, China
UN/IAF Workshop on Space Technology as a Cost-Effective Tool to Improve Infrastructures in Developing Countries,
2 – 5 October 1997, Turin, Italy
UN/IAF Workshop on Expanding the User Community of Space Technology Applications in Developing Countries,
24 – 27 September 1998, Melbourne, Australia
UN/IAF Workshop on Space: an Integral Part of Sustainable Development,
30 September – 3 October 1999, Enschede, the Netherlands
UN/IAF Workshop on an Operational Strategy for Sustainable Development Using Space,
28 – 30 September 2000, Sao Jose dos Campos, Brazil
UN/IAF Workshop on Making Space Applications Operational: Opportunities and Challenges for Sustainable Development,
27 – 29 September 2001, Albi, France
UN/IAF Workshop on Space Solutions for Global Problems: Building Partnerships with All Stakeholders in Human Security and Development,
10 – 12 October 2002, Houston, TX, USA
UN/IAF Workshop on Education and Capacity-Building in Space Technology for the Benefit of Developing Countries, with an Emphasis on Remote Sensing,
25 – 27 September 2003, Bremen, Germany
UN/IAF Workshop on Capacity-Building in Space Technology for the Benefit of Developing Countries, with Emphasis on Natural Disaster Management,
2 – 3 October 2004, Vancouver, Canada
UN/IAF Workshop on Space Education and Capacity-Building for Sustainable Development,
14 – 15 October 2005, Kitakyushu, Japan
UN/IAF Workshop on the Use of Space Technology for Water Resources Management,
29 – 30 September 2006, Valencia, Spain
UN/IAF Workshop on the Use of Space Technology for Sustainable Development towards Food Security,
21 – 23 September 2007, Hyderabad, India
UN/IAF Workshop on Integrated Space Technology Applications – Support to Managing Potentially Hazardous Events,
26 – 27 September 2008, Glasgow, UK
UN/IAF Workshop on Integrated Space Technologies and Space-based Information for Analysis and Prediction of Climate Change,
9 – 11 October 2009, Daejeon, Republic of Korea
UN/IAF Workshop on GNSS Applications for Human Benefit and Development,
24 – 25 September 2010, Prague, Czech Republic
UN/IAF Workshop on Space for Human and Environmental Security,
30 September – 2 October 2011, Cape Town, South Africa
UN/IAF Workshop on Space Technologies Applied to the Needs of Humanity: Experience from Cases in the Mediterranean Areas,
28 – 30 September 2012, Naples, Italy
UN/IAF Workshop on Space Technology for Economic Development,
20 – 22 September 2013, Beijing, China
UN/IAF Workshop on Space Technology for Socio-Economic Benefits, with a particular focus on global health and maritime applications,
26 – 28 September 2014, Toronto, Canada
UN/IAF Workshop on Space Technology for Socio-Economic Benefits: Integrated Space Technologies and Applications for a Better Society,
23 – 25 September 2016, Guadalajara, México 26 **26th Workshop "Space Technology for Socio-Economic Benefits: "Industry, Innovation and Infrastructure for Development (3Is4D)", organized by the International Astronautical Federation (IAF) and supported by the United Nations Office for Outer Space Affairs,
28 – 30 September 2018, Bremen, Germany
27th Workshop on Space Technology for Socio-Economic Benefits: "Ensuring Inclusiveness through Space-based Applications and Space Exploration" , organized by the International Astronautical Federation (IAF) and supported by the United Nations Office for Outer Space Affairs,
18 – 20 September 2019, Washington D.C, United States of America
Points of contact
Jorge Del Rio Vera
Scientific Affairs Officer
United Nations Office for Outer Space Affairs (UNOOSA)
jorge.delriovera@un.org
Hazuki Mori
Expert, Space Applications Section United Nations Office for Outer Space Affairs (UNOOSA)
hazuki.mori@un.org