Welcome to the IAF MEDIA CENTRE

We connect, inform, inspire, engage, and empower.
This session is intended for journalists, media professionals and space lovers. Here you will find our latest press releases which we distribute to our media contacts, press conference events, photos, videos and social media activities.
If you would like to receive our latest news in your mailbox, become an IAF media partner, or be included in the IAF social media world please contact us at media@iafastro.org.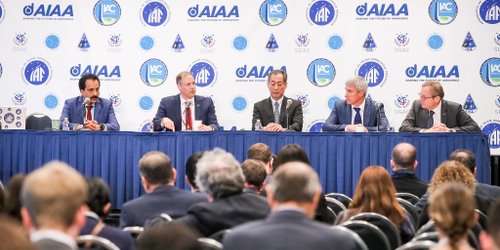 Press releases
IAF official statements, information, and announcements.
Press conferences
The IAF regularly organizes press conferences to officially distribute information, answer questions from the media, and make announcements from the IAF or from IAF Members.
Photos
Find here the collection of photos taken during IAF events. If you would like to license any images or need assistance finding something, please contact media@iafastro.org
Social Media
Join the IAF social media world. No matter your location, be part of the conversation @iafastro. Reach the greatest online space community, nurture the dialogue and engage with your peers.
The IAF App
The importance of mobile phones in our everyday life and activities is undeniable. Through the development of the IAF mobile application (IAF App), the IAF is now able to connect with all of you more easily and faster.
IAF Artistic Services
The IAF partners up with a team of professional graphic recorders who live draw IAF events and, by combining the skills of a note-taker and an artist, visually represent information communicated orally.