Adriatic Aerospace Association (A3)
Association and Professional Society • Member since 2018
`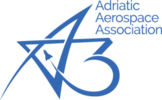 Adriatic Aerospace Association was established in December 2017 as a non-governmental, non-profit and independent association with the aims to:
foster research and development in aerospace sector,
catalyse project developments as regional point-of-contact,
encourage and support capacity development and knowledge transfer through academic and professional education and counselling,
regional cooperation.
The founding members are research institutes, university departments, technology companies and individual specialists in related fields of science and technology. The Association's main objectives comprise facilitation of research and development of aerospace technologies, passenger and cargo transport, pilot training, aerospace facilities (airports and spaceports), capacity development, knowledge transfer, and business development in the field of aerospace technologies.
The Adriatic Aerospace Association extends a considerable capacity in related fields of technology and science, through expertise of its members, among them a company provider of complex tailor-made software solutions and all-around software support for the satellite industry. So far it delivered over 100 projects to the international market, the customers that include international space and global humanitarian agencies. Individual and corporate members of the Association have developed capacity in artificial intelligence, control systems, satellite navigation, space weather, data science for location intelligence. In research and development, the A3 members operate centres exploring and developing advanced graphene based materials, advanced energy storage elements, advanced materials for solar cell applications, and advanced materials for various types of sensors. The A3 technology experts work on satellite and rocket engine designs and manufacturing. Several A3 members are associated with NASA, Airbus and DLR thus providing the A3's strong link with the leading organisations in the field of aerospace technologies. The segments of aerial traffic control systems, UAV development for targeted scenarios of utilisation, airport planning and aircraft structure simulation are covered by the A3's aviation related experts. We have a good base of various experts to workout our plans and moderate numbers of firms that could realize them, which is an invitation for partnership on those projects.
Marticeva 72
10000 Zagreb
Croatia
00385(0)1 5603 900
Participation