Dereum Labs S.A. de C.V.
Space Industry • Member since 2019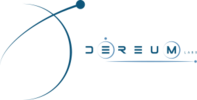 In the upcoming decades, we will create a space economy formed by the Earth, Moon and Mars. This endeavour will require resources, industry and services, some of which we already use on Earth thanks to the expertise of large industries.
Dereum Labs democratizes access to space data, taking Earth industries to space thanks to our Mission as a Service (MaaS) model, by providing On-surface Payload Transportation, Data Science and Mission Design services based on our robot infrastructure.
Zamora 187, Colonia Condesa
6140 Mexico City
Mexico